Before The Walking Dead Saints & Sinners Chapter 2, TWD: Saints and Sinners, published in 2020, was the game's predecessor. Skydance Interactive is in charge of its creation once more.
Chapter 2, titled "Retribution," was initially planned to release alongside Sony's PSVR 2 but was delayed for a short time and given a new release date. With that in mind, let's look at the new release date, scheduling, and other information of The Walking Dead Saints & Sinners Chapter 2: Retribution.
The Walking Dead Saints & Sinners Chapter 2: Release date
The Walking Dead Saints & Sinners Chapter 2: Retribution will be available across all devices on March 21, 2023, for $39.99, as promised. To be clear, players must have a virtual reality device to participate in the game.
Depending on the platform where the game is purchased, The Walking Dead: Saints & Sinners Chapter 2 Retribution's release date differs.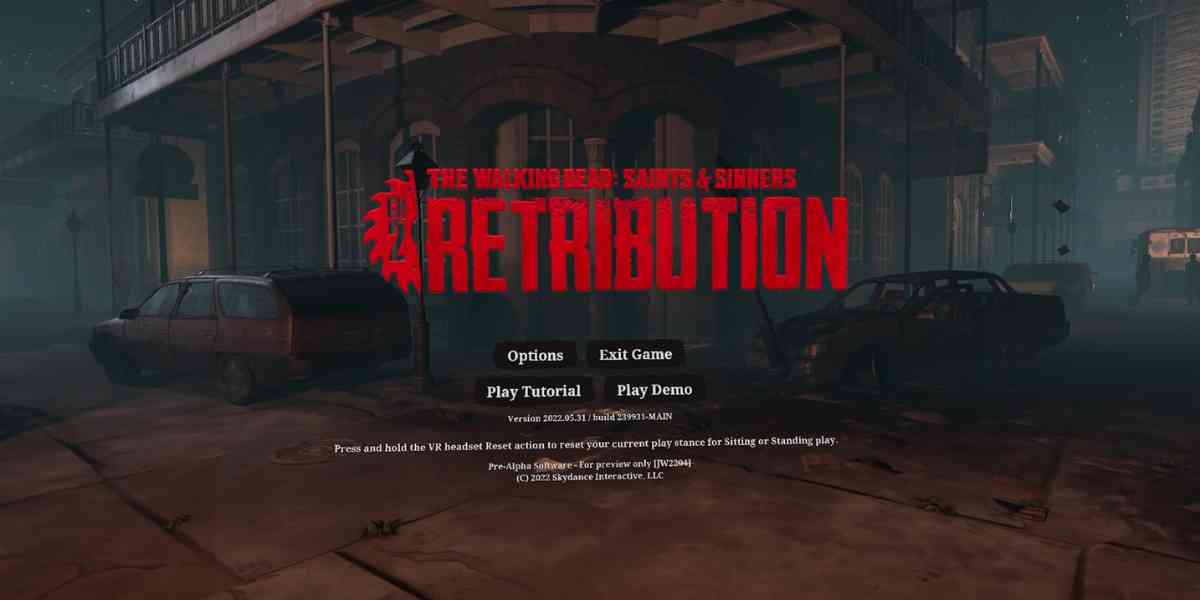 The PlayStation VR 2 title of The Walking Dead Saints & Sinners Chapter 2 will go on sale at midnight in your local time zone. This suggests that some regions will receive the game earlier than others.
Related: Dusk Diver 2 Review Covered for both PlayStation and Switch
The game will be published concurrently worldwide on Steam. For your benefit, we've outlined what that involves below:
9 am PT

4 pm GMT

5 pm CEST

12 pm ET

11 am CT

3 am AEDT
The Walking Dead Saints & Sinners Chapter 2

: Gameplay
This new series installment uses the same principles as the first one. The scavenging element, the inventory system, and the management of weighted weapons are all present and still feel fantastic.
The firearms all feel like they have their weight, heightening the sense of immersion. I really like how the lead pipes and other two-handed weapons are all treated correctly in the game. Moreover, you will likely deal less damage, and your swing will be a little off if you attempt to swing a two-handed weapon with just one hand because of the extra weight.
Walkers are entertaining alone but hazardous in groups. A walker can be killed instantly by simply grabbing it by the skull and stabbing it in the brain with any sharp object.
Related: Warframe – How to Get Platinum in 13 Ways
There were times when the game failed to acknowledge the kill, which I initially believed to be a bug. The walker will still attempt to chomp you if you don't stab them hard enough for the knife to pierce their cranium. Even with the streets littered with the dead, I liked how little details like this gave the world a more vibrant feel.
As you can see, Skydance took a secure approach to this game and provided more of the elements that were previously proven to be popular with players. The inventory system comes back, which fits the survival element perfectly. The game also reinstates your graveyard "home base," which you can use to organize your loot and improve your weapons. Once more, the same old thing.
The Walking Dead Saints & Sinners Chapter 2

: Story
Retribution places you directly in the heart of New Orleans, where your character left off in the first game.
A new baddie in town, fully armored, who wants your head on a silver platter. Without going into spoilers, you are forced to fight for your life and continue to assist those who cannot help themselves during the bleak zombie apocalypse. This creates the ideal conditions for scavenging and fighting the undead masses. If you liked the narrative so far in the first game, you'd like this one, too, because it is a direct continuation of that one.
The narrative wasn't particularly amazing to me, but it fits the genre, so I was contemptuous. Instead of mindlessly killing zombies, it's nice to have a reason to travel to these locations and engage in combat. I will admit that the game's "finale" left me underwhelmed, and I would have preferred a more dramatic conclusion.
The Walking Dead Saints & Sinners Chapter 2

: Replayability
This game's replay value is similar to its initial title. You can return to any place with Retribution, and it is entirely up to you whether you decide to eliminate every faction there.
You didn't pillage a place entirely, did you? Looking to find out who and what you can discover?
Related: The Sims 4 – The Best Gameplay Mods for Realistic Experience
Returning to these locations in search of fresh items and secrets is undoubtedly a possibility, but combat is undoubtedly the main attraction.
We all know the walkers will always be fighting, and you never know when you'll run into a particular faction to put your shooting abilities to the test.
It concludes the details that are known so far about The Walking Dead: Saints and Sinners Chapter 2's release date, action, plot, cost, and other features.