Pokémon rarest cards are popular collector items worldwide, with the franchise reportedly producing over 50 billion cards, selling for hundreds of thousands at auction. This astonishing figure results from its enormous fan base, with the Pokémon app receiving over 120 million downloads on the Play Store and AppStore.
Out of the billions of cards produced, a few rarest Pokemon cards and limited editions hold immense monetary and sentimental value. The Pokémon community is ever-growing with the introduction of rarest versions of Pokémon TCG, TCG players and other developments to market the franchise. Here are the most celebrated and rarest Pokemon cards in history that card collectors prefer to own to enrich their card collections.
Rarest Pokémon Card: The Pikachu Illustrator
Pikachu Illustrator is one of the rarest versions of cards in existence. This beautiful, rarest Pokemon card was created in 1997 to honour the much-loved character Pikachu with yellow cheeks. The most occasional Pokemon Card Pikachu Illustrator was rewarded to the winners of the unique tournament, the Pokémon Card Game Illustrator Contest, held in 1997 in Japan. Only 39 copies of the card were created for this event, and no more editions were ever made, so the ultra-rare card is to add to your card collection.
The Pikachu illustrator's rarest Pokemon card is artistic, portraying Pikachu sketching itself. It was designed by famous illustrator Atsuko Nishida of the Pokémon Company. The card is precious, the only rare card not to have a double star as the rarity symbol in the bottom corner. Many collectors want to own this Pikachu illustrator card, the most expensive card ever sold.
Famous YouTube influencer Logan Paul bought the rarest versions of Population 1 PSA 10 Pikachu Illustrator for a whopping initial price of 5.275 million dollars at auction, making it one of the most expensive and rarest Pokemon cards. This beautiful, most occasional Pokemon card is a link to the creative origins of the game that has made Pokémon a global sensation. Logan Paul also bought the rarest versions of the beautiful card PSA 9 Pikachu Illustrator for the initial price of 1.25 million dollars price at auction a few years back as a tribute to the much-loved character.
Due to the Pikachu illustrator card's rarity, ensuring its authenticity is crucial. Professional grading and authentication services, such as those provided by PSA (Professional Sports Authenticator), play a vital role in confirming the card's legitimacy and condition. Some of the Pikachu illustrator's rarest Pokemon cards are kept at museums and exhibitions, highlighting their cultural importance and role in collectables.
The journey from an illustration contest in 1997 to the hands of passionate collectors reflects the impact of the yellow cheeks Pokémon on the world. The brilliance is owed to Pokémon's famous illustrators for creating astonishing player-level cards of the yellow cheeks Pokémon.
Related: PS5 Slim Rumored Release Date, Price, Design and More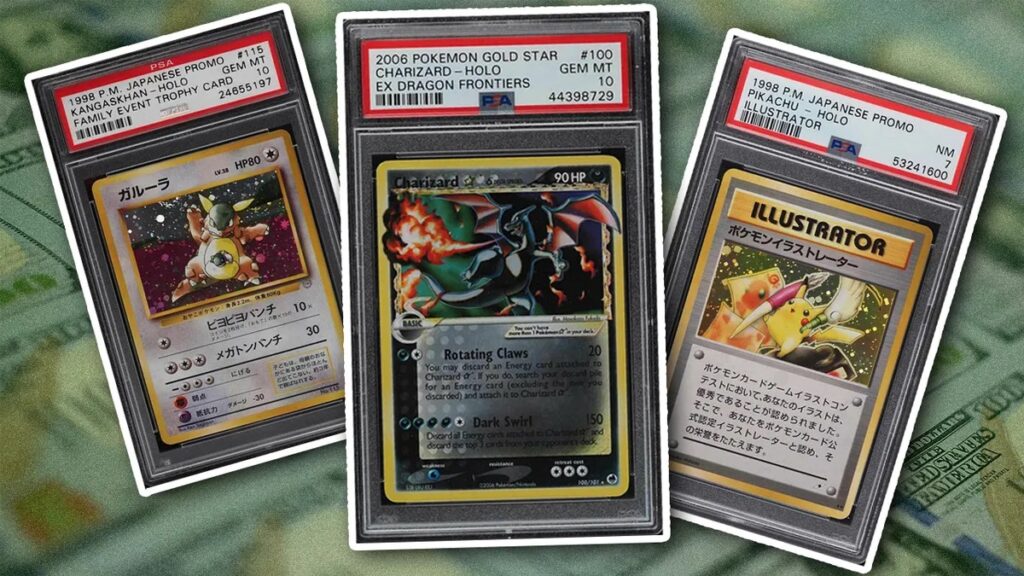 Rarest Pokémon Card: The Crystal Charizard
The much-loved character Crystal Charizard is another rarest card that can be crowned as the most occasional Pokemon card. This occasional Pokémon card was released as part of the infamous Skyridge set in the Pokémon TCG. The Crystal Charizard card is unique as it has holographic cards with fantastic artwork of foil pattern that looks like crystals. The holographic artwork design changes the Fire-type Pokémon, Crystal Charizard, into a Pokémon that shifts in light. This unique feature makes the card the rarest Pokémon and its rarity symbol.
This rarest Pokemon card was released in the Skybridge edition towards the end of the e-Card era, and only a handful of them are available worldwide as TCG collectables. Card Collectors are attracted to the gem mint ultra-rare Pokémon card, Crystal Charizard, due to its investment potential and because it is one of the rarest versions of Pokémon cards ever. The most occasional Pokemon card goes through a stern printing process without imperfections.
Related: The Super Mario Bros. Movie Gets Peacock Release Date
Rarest Pokemon Card: The Prerelease Raichur
The Prerelease Raichu card is like a window into how the Pokémon Trading Card Game (TCG) began. One of the rarest Pokemon cards, Prerelease Raichu, reminds us of the TCG's start and how it was introduced for the players. Distributed during prerelease events for the Base Cards Set, the foundation of the Pokémon TCG, the much-loved character Prerelease Raichu carries a historical significance that collectors hold dear. Rarest Pokemon cards like prerelease Raichu are crucial for card collectors and fans and can be found by their rarity symbol.
These prerelease Raichu player-level cards were super special because they were released before the game was available in stores. These rarest Pokemon cards also have holographic artwork. This made players excited and curious about the game before they could even buy it due to the prerelease of Raichu cards. There's an incredible mark on these valuable cards of prerelease Raichu that are player-level, called the "Prerelease" stamp added by the famous illustrator. This mark connects the fantastic piece card to those early events and shows how pumped everyone was about the game's start.
The stamp makes the Prerelease Raichu card an incredible piece, different from regular cards. It's like a special memory from the beginning of the game. These Prerelease Raichu cards by the Pokémon Company go through a vigorous printing process with no imperfections by famous illustrators. As time has passed, rarest Pokemon card collectors have wanted the Prerelease Raichu card by the Pokémon Company. This prerelease Raichu card has become like a real display piece because it's rare, linked to the game's beginning, and makes people remember the old times.
Having this valuable card of prerelease Raichu is like having a piece of Pokémon history and being part of the excitement that made the game famous, besides adding it to the rarest Pokemon cards collection. The Prerelease Raichu card reminds us of how the Pokémon game began and how excited everyone was, and it is an accurate display piece. It's like a time machine that takes us back to when the Pokémon TCG's English version started. Rarest Pokemon Card Collectors love finding these unique trophy cards of prerelease Raichu because they connect us to the past and remind us of the simple joy of catching and trading Pokémon.
Related: GTA 6 Release Date, Gameplay, Weapons, Price, Maps, Storyline, and More
Types of rarest Pokemon cards
Rarest Pokemon cards come in two distinctive types: holographic and non-holographic. Holographic cards, often called "holo" cards, possess a unique foil pattern that shimmers when tilted, adding a captivating visual dimension to the artwork. Among the prized holographic cards, the legendary iconic characters of Lugia neo-Genesis frequently emerge as a sought-after gem.
The iconic characters of the Lugia Neo Genesis card, showcasing the iconic Pokémon with its majestic presence, is highly coveted among collectors and is an accurate display piece. Its rarity and aesthetic appeal make it a standout in holo gold star cards. The holo gold star cards holographic artwork is a printing process with no printing imperfections and is an incredible piece.
On the other hand, non-holographic cards are equally significant and a real display piece, boasting unique artwork without the foil pattern. This card to grade offers a glimpse into the diverse artistic interpretations of Pokémon. Interestingly, even within this category, the spotlight remains on Lugia. The Lugia Neo genesis card, part of the Neo Revelation set, features this majestic creature in its non-holo gold star card form. Its availability in holo and non-holo versions contributes to its allure among collectors and enthusiasts.
These gold star cards can have some printing imperfections during the printing process. Different player-level cards are made by famous illustrators known as the Golden Ticket. Whether holographic or non-holographic, the iconic characters of Lugia Neo genesis cards symbolize a Golden Ticket as a bridge between the past and present of Pokémon collecting. Their presence in both formats underscores their enduring popularity and ability to capture the imagination of those who value these rare and cherished pieces of Pokémon history.
Importance of the rarest Pokémon cards
And speaking of the rarest Pokemon cards, they're super important, too! These cards are like treasures because they're not easy to find. Rare Pokémon cards are important because they remind us of fun times with Pokémon; collecting them is exciting, and each card has fantastic artwork. Some see these trophy cards as investments, thinking they can be worth more. It's like putting money into something that might grow in worth over the years.
Popular streamers like Logan Paul open expensive booster boxes of up to an initial price of 350 million dollars in Promotional Card and Prize Cards on their YouTube channel, gaining millions of views from the Pokémon community. Other streamers review strong Trainer Cards, Trophy Cards, and other beautiful cards like Gem Mint Neo Genesis found in booster boxes on their channels. These cards are fan-favourite starters and a real display piece classified as TCG Collectibles.
Rare, fascinating cards in the Pokémon realm encompass a captivating range of treasures, from the illustrious Japanese Trophy cards to the intriguing Sample cards. Each of these charming cards presents collectors with a unique window into the world of Pokémon. Whether it's a sought-after Japanese Trophy card featuring iconic Pokémon or Sample cards that spark curiosity, these rare gems hold a distinct aura for the Pokémon company.
For those seeking the pinnacle of preservation, sending the rarest Pokemon card to be professionally graded becomes a crucial step. The process ensures the card's authenticity and condition, ultimately elevating its status among collectors. Each rarest Pokemon card is a card to grade, be it a Japanese Trophy card, a Sample card, or any other variety. It carries a story, a glimpse into the passion and dedication that define the Pokémon company's collecting experience.
Rarest Pokemon cards hold an immense fascination for collectors and are a natural display piece for fan-favourite starters and enthusiasts worldwide, encompassing various elements that make them truly special. Whether it's a fascinating card, Japanese trophy card or sample card at the initial price, distributed exclusively at a regional tournament or a gem mint iconic characters of Neo Genesis card, a card to grade with a printing error that makes it a one-of-a-kind treasure, these cards capture the essence of the Pokémon TCG universe. And the Pokémon Company.
The allure is evident in the buzz generated by Pokémon TCG events like the Battle Road Summer 2008, where players gather to compete and earn exclusive or rarest Pokemon cards as incredible pieces as fan-favourite starters. Such fan-favourite starter trainer cards might find their way to prestigious platforms like Goldin Auctions, where they transcend from collectables to investments and actual display pieces. From the Mario Stadium promo to the intricacies of a particular tournament prize, each rarest Pokemon card is a card to grade and embodies the spirit of the Pokémon TCG journey by the Pokémon Company, etching memories of battles won, cherished moments, and the thrill of the hunt into every intricate design.
So, watch for these extraordinary, fascinating and rarest Pokemon cards on Pokémon Company's 60th Birthday– you might have a rare gem!