Essential resources are required for various tasks, such as satisfying thirst, managing hunger, building bases, taming creatures, and creating weaponry on the 150 square kilometres of mysterious ruins in Lost Island. In this article, we have compiled a comprehensive list of all the essential resources and locations of all nodes as an Ark Lost Island resource map from the official community map, including Black Pearls locations, Cactus, Chitin, Cementing Paste, Crystal, Gems base locations, Metal nodes, Obsidian, Polymer, Salt, Sulfur and Oil and water, Silica, and Silk. The game is an ARK survival game; therefore, gathering resources and overcoming obstacles are its two most important features.
Ark Lost Island Resource Map: Black Pearl Locations
The ARK survival seafloor is where all the black pearl locations of explorer notes are. The Artefact of Cunning Cave system at 55.7, 71 is one of the most incredible places to get Black Pearls from areas of explorer notes. The Artefact of Strong underground Cave nodes at 26.3 and 54.5 is another site. However, players must be cautious of the dangerous monsters there.
Ark Lost Island Resource Map: Cactus Resources Locations
Users can find several ARK Survival cacti at 78.2 and 65.3 in the desert. Cacti are found throughout the entire desert region of the explorer map. Thus, it is not only the precise place that makes it so.
Related: PS5 Slim Rumored Release Date, Price, Design and More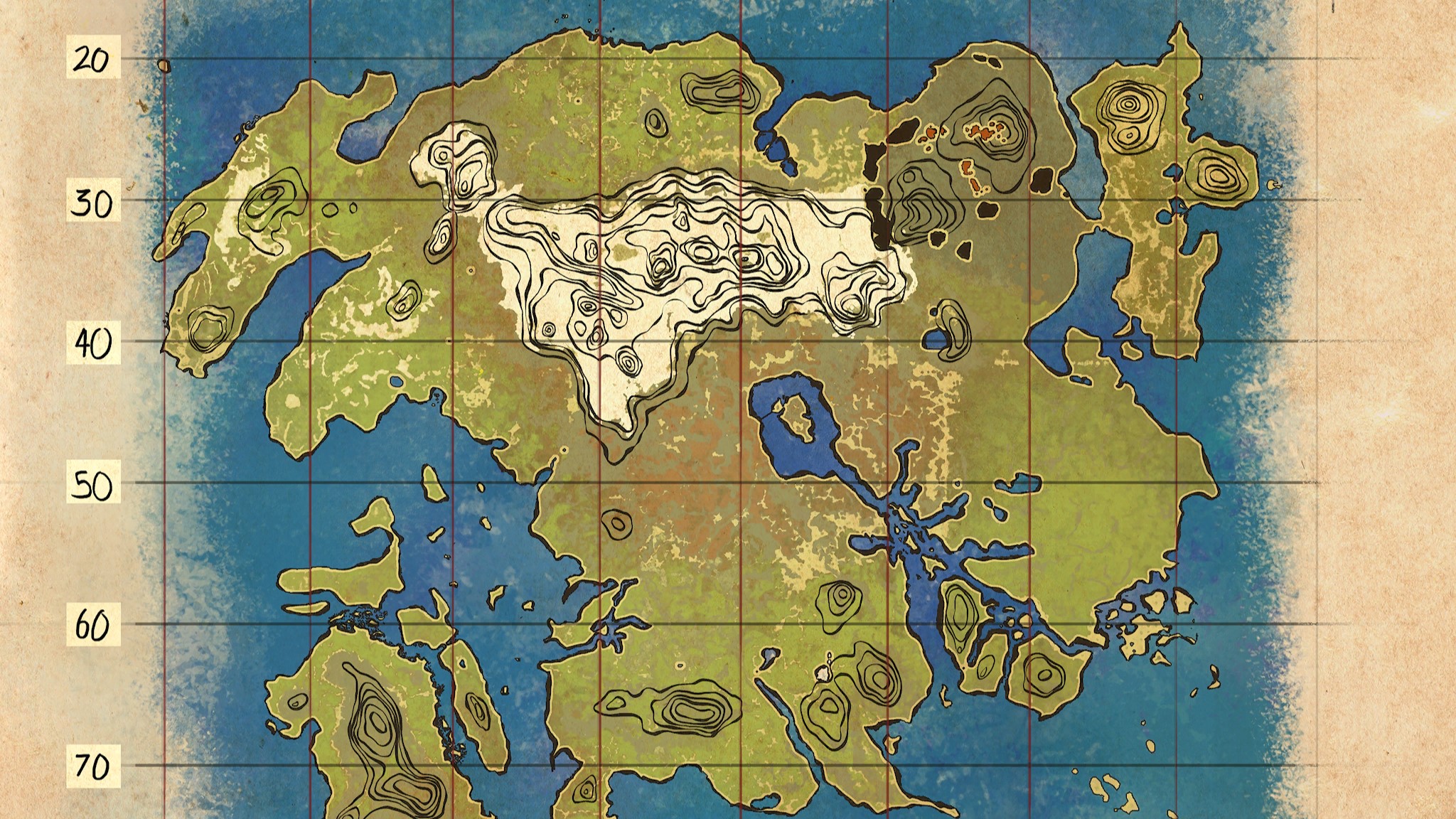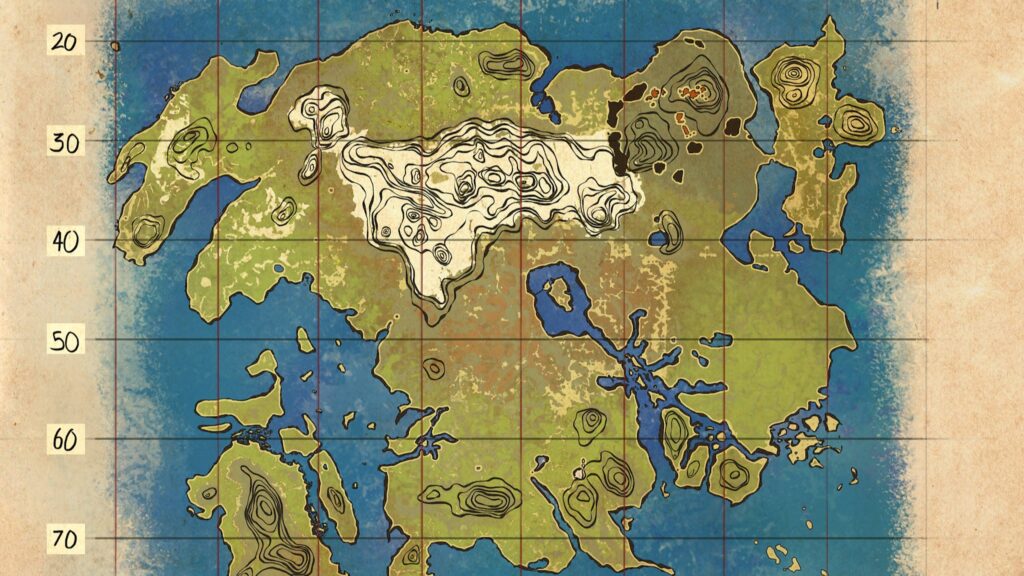 Ark Lost Island Resource Map: Cementing Paste
The Ark Lost Island resource map guide has numerous locations of explorer notes and methods for obtaining a lot of cementing paste. Many practical approaches, such as farming Achatina Paste or utilizing Beelzebufo to attack Meganeuras and Titanomyrmas rifling through beaver dams, etc. Where the rivers join the sea and create three islands, you can see a lot of beaver dams in the lower right corner of the explorer map.
Ark Lost Island Resource Map: Chitin
The ground near the base of operation of the waterfall is covered in Arthropluera and other insects in 37.1 and 32.6. It's a perfect spot for chitin farming in ARK survival.
Related: The Super Mario Bros. Movie Gets Peacock Release Date
Ark Lost Island Resource Map: Crystal
The snow cave at 30.5 and 52.5 on the Lost Island explorer map is ideal for crystal spawning in ARK survival. Users can obtain many crystals after passing the entrance and taking the left tunnel from the first clearing.
Ark Lost Island Resource Map: Gems
Red, blue gems and green stems can spawn separately and are dispersed around the ARK survival Lost Island explorer map. However, there is one location where they all produce simultaneously. Players will need dive equipment since this site is a 21 17.8 underwater cave. All three types of gem spots spawned simultaneously inside a little air pocket area in the cave. This is the Ark Lost Island caves locations and Loot map where you can find treasures.
Ark Lost Island Resource Map: Metal
There is a mountain at 60, 60 that produces a lot of high-quality metal nodes. Users can locate heaps of metal on and around the hill in the 89, 70 desert biome. On the whole Lost Island explorer map, it also has the most prominent metal spawning location. A nearby snow mountain is accessible to those who reside in the snow castle at 38 and 38.
Related: GTA 6 Release Date, Gameplay, Weapons, Price, Maps, Storyline, and More
Ark Lost Island Resource Map: Obsidian
Players must swim underwater to discover the cave at 59, 47.5. A few silicas will greet them when they first arrive. After turning left into the tunnel, they will see another opening where many black pearls, particularly obsidians, are found.
Ark Lost Island Resource Map: Oil
Numerous oil veins can be located at 31.5 and 24 beneath a lake. This location is not very deep and densely populated with oil veins.
Ark Lost Island Resource Map: Polymer
Gamers must easily visit the desert biome at 81.0 and 53.8 to farm organic polymers. Many penguins spawn on a lake in the snow biome at 40 or 43. Smaller penguins produce more polymers.
Ark Lost Island Resource Map: Silica
To make sophisticated products like electronics, silica pearls are a necessary material. To obtain significant silica pearls, users must travel to 35.4 and 88 near the explorer map's eastern global boundary and dive beneath the water. The second place is at 11.9, 43.1.
Ark Lost Island Resource Map: Silk
Silk may be discovered in 78.2 and 65.3, the same position as the cactus. Gamers have two options: kill Lymantria and collect their silk, or travel to the islands located at 78.0 and 41.3 and look for the silk plants there.
Ark Lost Island Resource Map: Sulfur
On a cliff near the lava river at coordinates 24.3 and 59.5, there is a location rich in valuable materials like sulfur crystals. Wyverns must be avoided because several of their nests spawn here.
Early in the game, due to deadly monsters, not every resource's location on the explorer map is safe to uncover. A few resources are also quite difficult to locate through the resource guide. However, after reading this article, we anticipate you will be well-informed about the Ark Survival Evolved Lost Island Expansion Map.
Let us know your user feedback below.