The second edition of Valorant Champions will begin soon. The release date, price, and bundle detail are out now. Riot comes up with some of the stunning skin bundles for Valorant Champions 2022. Let's have a look at the Valorant Champions 2022 bundles, skins, release date, and price (with a bonus hint about the new bundle.)  
Valorant Champions 2022 Bundle
The much-awaited bundle will have these items: 
Butterfly knife

Phantom Skin

A gun buddy

Spray 

Trophy card
And if you have the highest frags in the game, your skin collection will glow throughout the tournament. 
This bundle has new features for the 2022 collection, including two additions to Champion's Aura. These new features for Level 1 to Level 3 are:  
Custom Champions 2022 model change 

Custom Champions 2022 logo design

Custom red muzzle flash 

Custom firing audio

Finisher and Kill Banner
If you reach Level 4, you'll enjoy the Champion's Aura special features. See what the two special features of Champion's Aura are:
Continuously evolving visual effects every five kills (maximum kills 25)

An Easter egg on butterfly knife (when you have at least 25 kills and you're top fragging)
Valorant Champions 2022 Release date
Valorant Champions 2022 tournament will begin on 2 September 2022 and ends on 18 September 2022. What does it mean? The Valorant Champions bundle will be out very soon. Well, you wish! It's out now. 
The release date of the Valorant Champions 2022 bundle was 23 August 2022. Now you can grab your favourite bundle and skins. The sale ends on 21 September.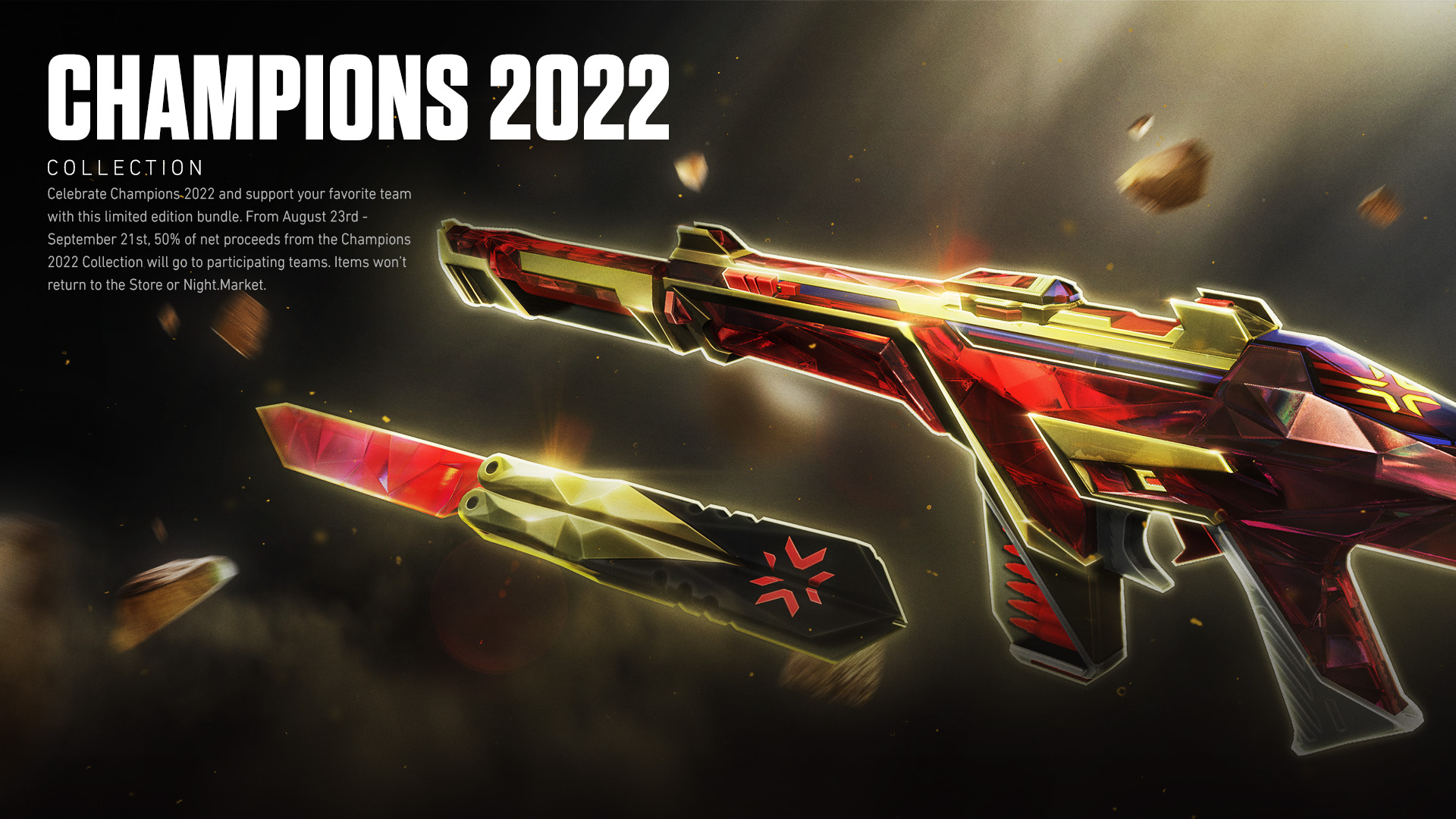 Riot is being truly generous this time. They announced that the teams participating in the tournament would get 50% of the net revenue from the Valorant Champions bundle. 
The skin bundle will not be available on Night Market. So if you're looking to grab some, now is the time. 
Valorant Champions 2022 Skin Effects
If you are a top player, you'll get the reward. The skin evolves as you succeed. Trust me. It will be very satisfying to see the skin glow while playing the game. However, this time Riot came up with two skins only. 
Phantom skin – an ADS design and a custom model with RED BULLETS. You'll get a different phantom on every level.

Knife skin – a custom inspect animation activating when you reach 25 kills (the one we mentioned in special Champion's Aura features)
Laura Baltzer, a Valorant producer, said in an interview with Forbes that they wanted Champions 2022 players to feel the same way they did last year. The flex was insane! They got this skin feature after a lot of trial and error experiments. The purpose was to build players' competitive feel and also to enhance the esports broadcast. 
This skin feature makes the Champion's Aura the thing! It looks aspirational and special. It is definitely a bundle to own if you are overachieving. 
Bundle Price
The limited edition Valorant Champions 2022 skin bundle price is 6264 VP which is around $60 depending on your region. 
So if you want to glow throughout the tournament, get this bundle as soon as possible. 
This VCT bundle has all your favourite elements you loved the previous year but with a few twists. Fans love that Riot Games added a new touch to their old favourite weapons. You can get this bundle to experience nostalgia and make new memories in this tournament. 
The tournament will begin soon. The Valorant Champions Tournament is all set to begin in Istanbul. You can also watch it live on YouTube. Get your bundle from the in-game store before it expires in the store.