Have you ever wanted to go to Mars? We always have! There is so much to see and explore on Mars and many difficulties to overcome. If humanity can accomplish this, we will be able to become a multi-planet civilization. Occupy Mars is a highly technical, open-world sandbox survival game inspired by the most promising technology and enterprises striving towards becoming a multi-planet species. 
The game revolves around building and expanding your base, exploring new incredible places, carrying out mining operations, obtaining water, manufacturing oxygen, planting crops, repairing broken sections, and learning how to survive on Mars. The concept of the game is a dream come true for many. The concept of Occupy Mars is a dream come true for many, so here are all the details regarding it.
Occupy Mars: Release Date
The Early Access release date for Occupy Mars is May 10th, 2023. The game will be available on the Epic Games Store, GOG, and Steam.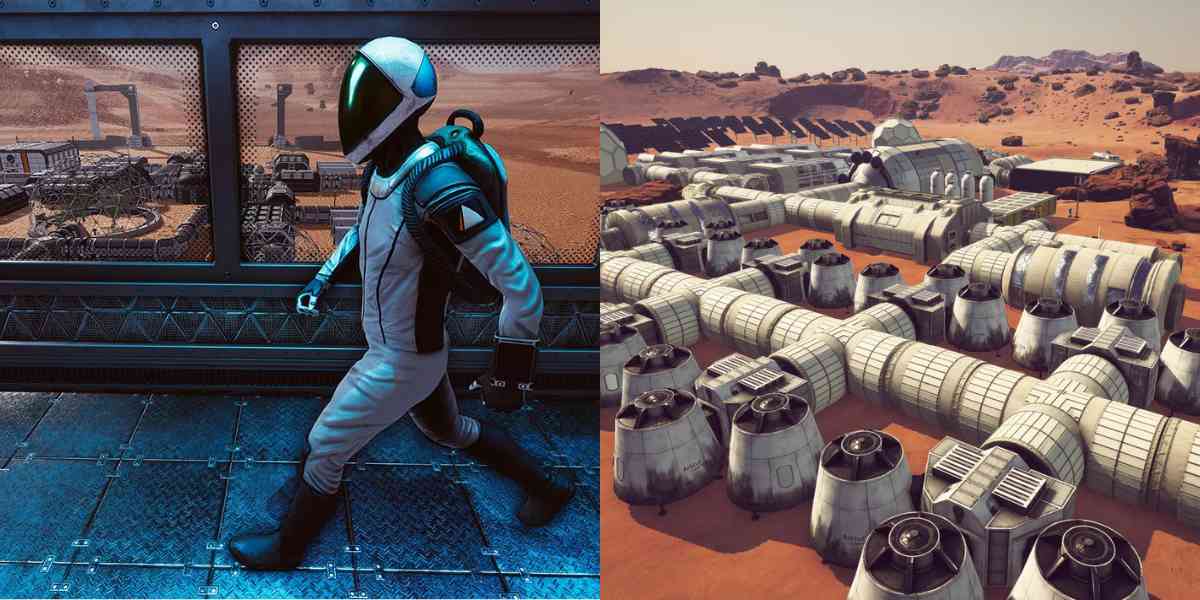 Around the same time as the PC version, Occupy Mars, the base-building game, will be made available for Android and iOS.
Occupy Mars: First Chapter
The players learn about numerous gaming mechanics in the game's first chapter. They will eventually have to rely on themselves to survive on Mars' hostile surface.
They will have to learn the fundamentals of soldering, hot air use, electronic measurement equipment, and all the other details required to repair your equipment. Players can play a realistic day/night open-world sandbox game while overcoming the difficulties colonists endure.
Furthermore, they will have to discover mining locations, explore various Martian regions in quest of valuable materials, and choose the ideal place for settlement. Remember that you need to locate a spot where temperatures don't drop too much at night, is somewhat flat, and has adequate access to water.
Overall, it will not be easy to colonize Mars. Sometimes things will blow out, break, or turn out differently than expected.
Occupy Mars: Key features
Organizing your assets, supplies, water, oxygen, and energy is necessary for survival on Mars. So make sure you have everything you need. Also, don't forget to prepare some stock that will be useful in an emergency.

Increase and upgrade your base as the entire thing must run well. Be aware of changing weather patterns. Maintain order for the base to function effectively, which is especially crucial while connecting cabling.

Take on the planet before establishing a base. You will need to discover an ideal terrain; look for areas where unpleasant conditions will interfere as little as possible. Also, access to subterranean ice resources and a somewhat flat surface is certainly required!

Rush against the clock for panics and breakdowns on Mars. You have to keep honing your skills so you can fix all problems in a flash.

Focus on having an outstanding garage because walking on Mars isn't particularly enjoyable. Therefore, cars tailored to the planet's terrain are preferable.
Occupy Mars: Tips and Tricks
Open the glass panel to the cleanser within the HAB and push the "Fill Bottle" button to fill O2 bottles. Then take the green bottle that appeared at the bottom left of the scrubber's interior.
You may also like:
System Shock Remake Release Date Shifted To May 2023
Every Video Game Release Date Coming Soon For PC
RedFall Gameplay Footage Leaked Before Official Release
Always remember to include two airlocks while constructing the base's entrance. It will keep the room from depressurizing.
Occupy Mars: System Requirements
OS: Windows 10

DirectX: Version 11
Minimum:
Processor: Intel Core i5-6400 / AMD Ryzen 5 1500X.

RAM size: 8 GB

Graphics: RX 570 with 4GB VRAM / GeForce GTX 960 with 4GB VRAM

Storage: 15 GB of free space
Recommended:
Intel Core i5-6600K / AMD Ryzen 5 2600X or higher processor

RAM size: 16 GB 

Graphics: GeForce GTX 1070 8GB VRAM or better

Storage: 20 GB available space

Sound Card: DirectX compatible
Unfortunately, no practice can simulate the circumstances on Mars. Thus, battling the elements will be the ultimate test of one's skills.