Finally, eagerly anticipated Mario news is here. Since players choose to race around in adorable vehicles rather than jump into turtle-infested sewers, the Mario Kart series has been a cornerstone of the Nintendo gaming universe, so it makes sense that fans are eager for Mario Kart 9. Due to its emphasis on fast racing and breathtakingly friendly competitions, the original Super Mario Kart quickly rose to become one of the most well-known video games of its time.
Mario Kart 9 Release Date
Nintendo has yet to announce the official date of Mario Kart 9's formal release. The earliest Mario Kart 9 is likely to be launched in 2024, given everything. Given that MK8 Deluxe, the Wii U version of the original Mario Kart 8 game, was published in 2014, Nintendo seems unlikely to continue providing support for Mario Kart 8 at this time. Mario Kart 8 will therefore have been available for ten years.

Mario Kart 9 might not even be a game for the Nintendo Switch. Each generation of Nintendo systems has only ever had one Mario Kart game. On the GameCube, for instance, Double Dash!! It was the sole MK title. It suggests that Mario Kart 9 might be the first game for Nintendo's upcoming device, the Switch successor, which is expected to debut in 2024.
Mario Kart 9 Content
Each recent instalment in the Mario Kart series introduced a brand-new gameplay element. Bikes were first featured in Mario Kart Wii and have become a series mainstay. Gliders were introduced in Mario Kart 7, enabling racers to fly for vast distances for the first time. The most recent version, Mario Kart 8, added an antigravity mode that causes karts to hover just above the ground and enables steady driving on walls and ceilings.
In Mario Kart 7, point-to-point race tracks were included, which was another change. Participants would race from a predefined starting point to a specified ending point rather than on a closed circuit for the first time, with each race consisting of three unique sectors rather than three laps. Therefore, Mario Kart 9 is anticipated to introduce yet another novelty. While nothing has been finalized yet, it seems logical to introduce air racing to the franchise. Another excellent tribute to Diddy Kong Racing, which gave Nintendo 64 users this feature in 1997, would be this.
Related: Super Mario Odyssey 2 Release Date, Rumours & Speculations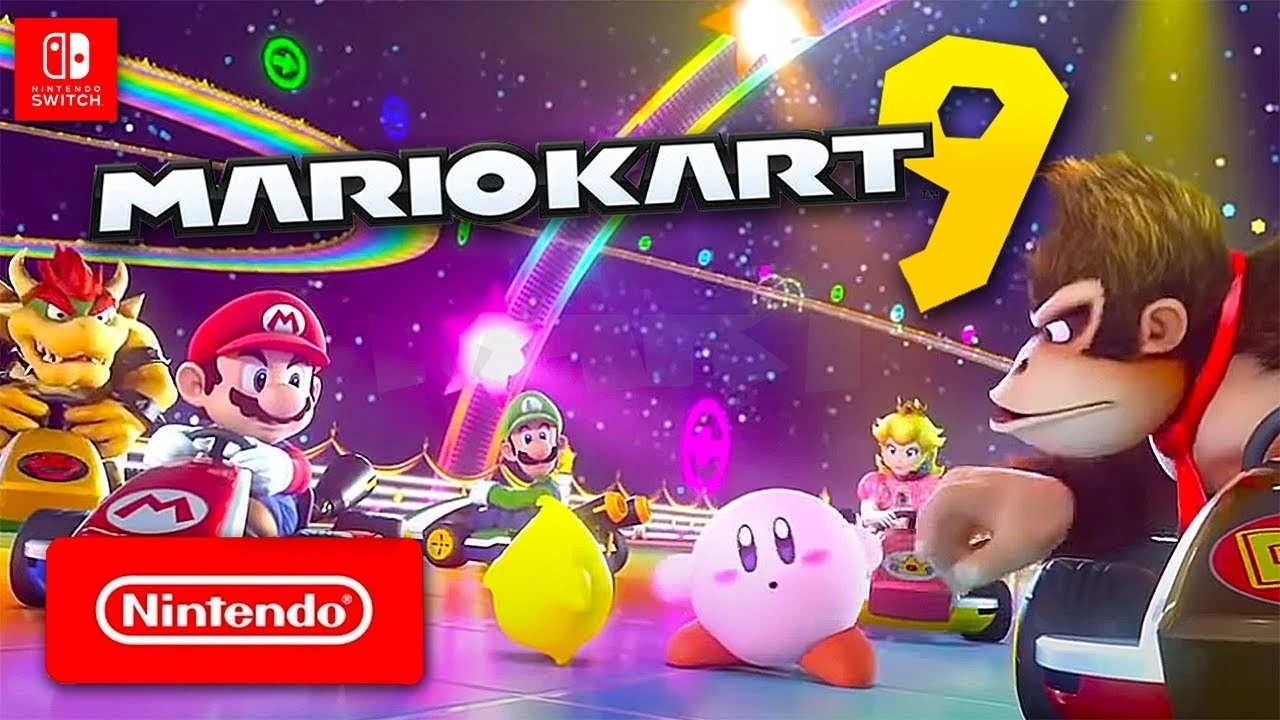 Mario Kart 9 Tracks
What ideas Nintendo will present for brand-new Mario Kart tracks is still unknown. Considering that we have seen many unique track concepts in the past, such as a racecourse in a bathroom, they also make it very difficult to forecast. The number of tracks in Mario Kart 9 can be estimated, though.
Combining the 16 DLC tracks from Mario Kart 8 and the 32 original tracks, Mario Kart 8 Deluxe had 48 tracks when it was released. Forty-eight circuits will likely be included in Mario Kart 9 once more, with an extra 48 tracks perhaps coming via an expansion pass like Mario Kart 8 Deluxe's Booster Course Pack.
The mix in an expansion pack is difficult to anticipate, although the core 48 tracks will likely be split into 24 new tracks and 24 throwback tracks (remakes from earlier games). The classic tracks in Mario Kart DS must be redone because they still feel incredibly dated, even on a newer system generation. The addition of fascinating, new circuits in Mario Kart Tour ensures that Nintendo has more than enough tracks to choose from.
Related: PS5 Slim Rumored Release Date, Price, Design and More
Mario Kart 9 Platforms
Mario Kart 9 will be released for the Super Nintendo Entertainment System, Nintendo 64, iQue Nintendo, Game Boy Advance, GameCube, Nintendo DS, Arcade, Wii, Nintendo 3DS, Nintendo Switch, iOS, and Android. Limited details regarding Mario Kart 9's gameplay and release date in 2024 are currently known. Further information is anticipated to be released by the producers shortly. The launching of this game might call for patience.
After reading this article, you should know what the next Mario Kart 9 release will feature.
Related: The Super Mario Bros. Movie Gets Peacock Release Date