The 2022 Games Awards revealed the return of a long-dormant franchise, Armored Core. The sixth installment in the series, Armored Core 6: Fires of Rubicon, was confirmed for production by FromSoftware! 
After more than a decade, Armored Core fans are ecstatic with the news of AC6: Fires of Rubicon returning! The game developers last touched the sci-fi genre game several years ago. However, there have been several rumors throughout the years regarding its return.  
The game developers also released a reveal trailer and the game series renewal at The Game Awards. It revealed a few exciting details about the upcoming game, and here's everything we know about it so far!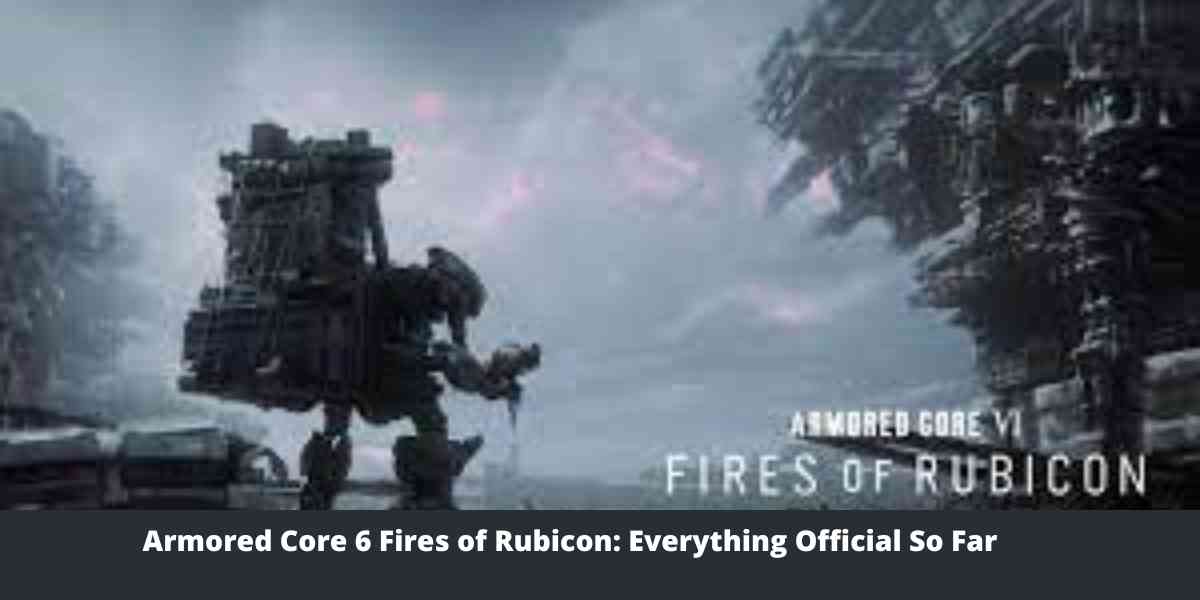 Armored Core 6: Fires of Rubicon Release Date 
FromSoftware and Bandai Namco are planning to release Armored Core 6: Fires of Rubicon in 2023. However, the exact release date has yet to be confirmed.
Fortunately, FromSoftware rarely delays its games releases. So, fans can expect to play the game in late 2023! 
The game will launch on PlayStation 4 and 5, Xbox One, Series X|S, and PC via Steam.
Armored Core 6: Fires of Rubicon Trailer 
Armored Core 6: Fires of Rubicon is quite different from its predecessors, as shown by the trailer. It will still contain many critical elements of classic FromSoftware RPG games. However, it will also feature some exciting new styles and gameplay! 
The Armored Core 6 trailer gives fans a general look at the upcoming game. However, it only reveals a few details as it is more of a stylized, pre-rendered cinematic. It does not include any in-game footage. But it does show the game's aesthetic. 
The trailer shows the game's dark and eerie tone. We can see annihilated and war-ravaged areas. We also get a brief sneak-peak of a pre-rendered duel between two mechs.
Storyline Details 
Armored Core 6 will feature a new substance found on a remote planet. It serves as an energy source and is expected to fasten humanity's technological and communications capabilities dramatically. However, it does the opposite and causes a catastrophe that engulfs the planet in flames, storms, and surrounding stars. Together, the stars and plants form a Burning Star System. 
After half a century, the substance was refound on Rubicon 3. A planet that was contaminated and sealed off by the catastrophe. Many extraterrestrial corporations and resistance groups want control of the importance and fight over it. In Armored Core 6, players must infiltrate Rubicon and prevent the essence from falling into the wrong hands. 
Gameplay Details 
IGN interviewed co-directors Masary Yamamura and Hidetaka Miyazaki. They revealed in-depth details regarding the game! 
The co-directors revealed that Armored Core 6 would feature the same missions and mech assembly systems as the other games in the series. However, it will have an "air of mystery … and sense of darkness", the likes of which FromSoftware is known for. 
Miyazaki also revealed that the storyline with be completely different. It will be a reboot that players who have never played the previous games in the series will still be able to enjoy! 
The co-directors also discussed that the upcoming game would contain critical influences from the famous "Souls" formula! 
They also emphasized that the sixth installment will mostly feature contained individual missions instead of open worlds. The Steam listing says it will have "groundbreaking gameplay found in the developer's recent action games." 
Yamamura added to this by saying Armored core six will have "dynamic and intense boss battles that only mechas can offer." His co-director also noted that the game would feature fast-paced bullet-hell combat, a Sekiro-inspired posture system to facilitate aggressive play, and several other features.