For those of you that want to relive your high school life again or create new memories, the Sims 4 High School Years Expansion has got you covered. This latest addition to the Sims 4 family has some spectacular features, including emo teen outfits, thrift stores, and new furniture options. 
Now, you can follow your Sims to school and attend classes with them. You can also join after-school clubs like chess clubs, cheerleading, etc., and experience teen romance all over again. Moreover, the new expansion has added several fabulous new features. We've reviewed all of them down below in our Sims 4 High School Years Review. 
High School Years Expansion- Create-A-Sim Additions
The wardrobe in this new expansion is straight out of a teen movie with awkward styles and weird themes. You can try on different things, conduct experiments, and find your inner diva all over again. 
You will find everything and anything in the new Create-A-Cloth additions. There are preppy outfits, a couple of formal dresses, and dress shirts with sequence and flare. However, since the High School Years Expansion glamorizes prom, it is slightly upsetting that there aren't too many extravagant gowns and dresses. Moreover, there are no sleek suits or bodysuits.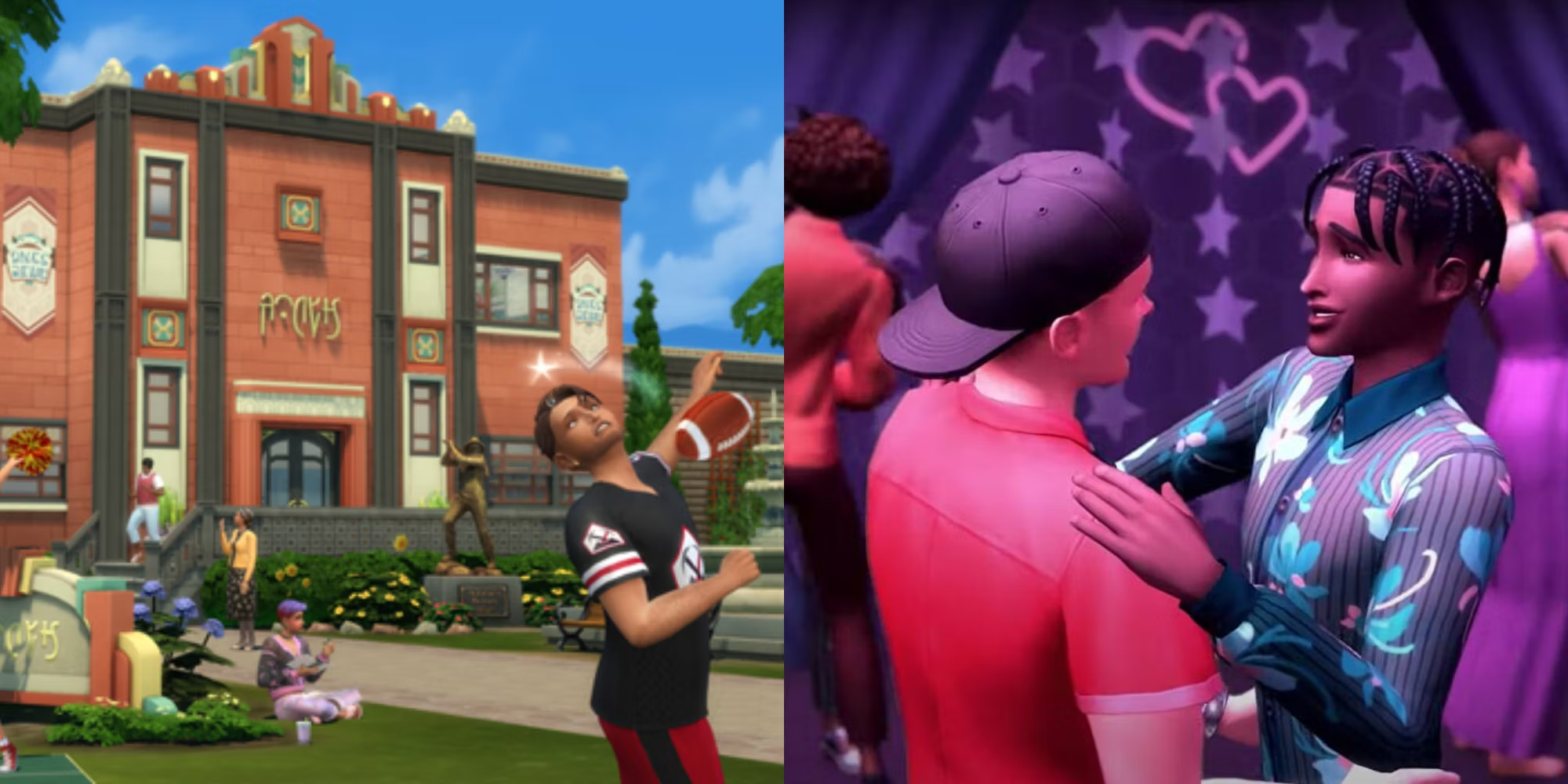 Another thing that we were a little disappointed in was the lack of form-fitted jeans. This pack only contains one, but we were hoping that it would bring at least three-four such jeans to the game. 
All these clothing items can't be used for children since this is a teen-centric pack. However, some of the hairstyles introduced in this pack can be used by children too. 
The hair options in the High School Years pack are pretty great. Unfortunately, there aren't too many hair accessories that helped us get through our emo teen hair phases. 
High School Years Expansion- Build/Buy Items
The new pack introduces five single beds along with three double beds. Thus, you have a lot of options for designing your teen room according to your liking.
Laptops and computers with wide screens and LED lights are also a part of the pack. These are perfect for decorating your room like a wannabe teenage gamer.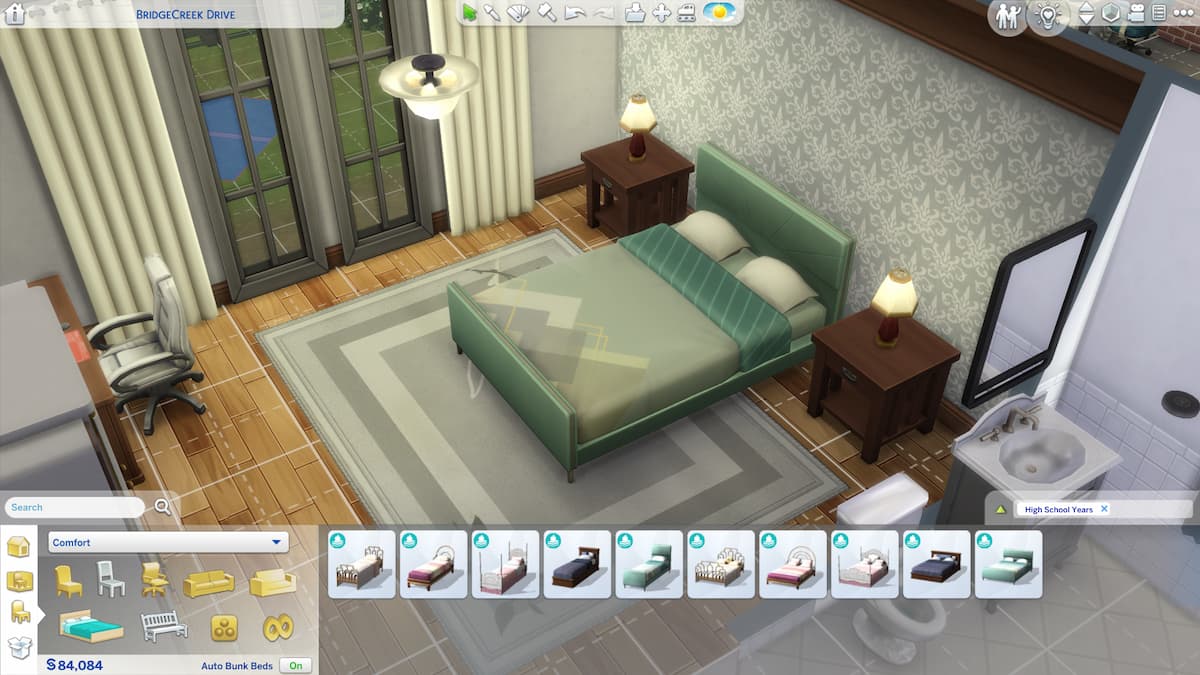 Moreover, the pack also introduces more personality-oriented items, including hobby-themed clutter and stacks of games, books, and music. Hanging chairs with fairy lights and partitions with such lights and pictures are also a spectacular touch for adding to your female teen's room. 
All in all, the pack has introduced several clutter items to give your teen's room an authentic touch. 
Copperdale- A New Sims 4 City
Copperdale has twelve new plots, with the Plumbite Pier being the highlight of the city. There are also new carnival rides and beautiful lakes. Unfortunately, the rides were a huge disappointment. Instead of watching your Sims enjoy rides, they disappear as soon as they interact with the ride. However, the plus point is that these rides can sometimes trigger new relationship opportunities. For example, sending your Sim on the tunnel of love may create a Crush sentiment for participants. 
Additionally, the new town also includes thrift stores. The ThriftTea shop sells thrifted outfits and boba tea, our two favourite things! 
As for improvements, we do believe that Copperdale is a bit boring and monotonous. There are no hangout spots for our teens, such as skateparks! 
High School Years Expansion- Gameplay
Saved by The Bell
The main gameplay of this pack revolves around following your Sims to school. You can attend classes with them, give exams, prepare for tests with friends, and take part in all the drama that goes down in the cafeteria during lunchtime. 
Unfortunately, the gameplay loses its luster too soon! It gets repetitive as you sit at desks and listen to teachers talk about different topics. Even the exams you take and the detentions you attend take place in the same classroom with the same format. 
Sims has a pretty basic daily routine. They attend two classes daily, and there is a break for lunch in between. Moreover, your Sims will also have an exam at the end of each week. You must also complete homework and study for tests. 
Keep in mind to choose the age of your teens carefully. This is because they age up really quickly and disappear from school even before graduation. Thus, your high school will become barren with barely a few teens.
Another exciting feature of The High School Years Expansion pack is pranks and notes-slipping. You can plant stink bombs and give your classmates and teachers an unexpected surprise! Unfortunately, you will get detention if you get caught by the principal. 
Troubles Faced by Teens 
The new teen life gives your Sims three new traits along with four new aspirations. Obviously, these traits will have a huge impact on the gameplay. For example, you can select the Socially Awkward trait. You can then confess your doubts and feelings to your loved ones and get their sympathy and comfort. This can trigger some new sentiments to develop! 
Moreover, if you think your Sims are safe from heartache, think again! The High-school Years Review introduces acne, body hair, and teenage heartbreaks! Thus, this new pack feels more realistic and gives us all the feels of our teenage years. 
Sims in this pack are also more phone obsessed, especially now that two new apps have been added. The first one, the Social Bunny App, features text messages and reactions to your friends' posts. It is very similar to real-life social media apps. You can also post a new picture on it every time you participate in an activity. The second app is called the Trendi App. It is similar to the DePop app and is essentially a thrift store. You can buy and sell outfits here. If you're someone who loves fashion, this app is made for you!
Prom Nights
The pack basically thrives on its prom attraction. You can make your own promposals, pick outfits and attend the most exciting night of your Sims life. There is dancing, eating, and voting for prom King and Queen. Additionally, there is also a jester and photo booth to further add to the thrill! 
However, it is kind of annoying how the prom can only take place in the Auditorium Lot. You can not choose any other location in Copperdale to host it. 
Furthermore, the new pack also contains graduation ceremonies and career days. Both these functions add extra spice and flavour to the game. During the career day, your Sims will interact with different professional representatives. 
There are also after-school activity events like science fairs and cheerleading. Sims enter the competitions, get judged by a judge, and wait to get their results. Unfortunately, you can't follow your Sims to such events and can not participate in group cheerleading and chess tournaments. 
Is the Pack Worth it? 
The High School Years pack definitely has some promising ideas. However, most of them still need more work. There are great wardrobe and build/buy options along with several new exciting things to do. It also includes new apps, events, and lifestyle changes. 
All in all, the pack is definitely worth it! It is among the top most loved expansion packs for Sims 4 players. However, it could use some improvements when it comes to providing a realistic experience.