Every month or so, Pokémon GO trainers get a fresh batch of Pokémon GO Promo codes that players redeem to get more in-game loot, such as free poke balls, extra berries, eggs, or even raid cards. The best part is that the items received through these codes can be obtained even when the inventory is full. However, getting promo codes that never expire is somehow complex. Moreover, many players remain confused about how to utilize them too full. But don't get anxious since we are here to help you every step of the way!
Where can I get Promo codes?
Pokémon GO Promo codes remain in demand since they provide access to free things. However, few codes are available for players despite platforms such as Niantic launching new ones often. 
These promo codes are not launched for one or two specific things, but their use varies from cosmetics like outfits and accessories to other items such as potions, revives, raid passes, and much more. In short, these promo codes provide access to everything you can use in the game. However, the drawback of these promo codes is that they are only available for a short time. Therefore, if you are lucky enough to acquire a few, it is best that you gain the advantage of them in due time; otherwise, they might get useless for you. 
How to Redeem Pokémon GO Promo Codes?
Once you manage to get your hands on a Pokémon GO Promo Code, you need to be quick in redeeming them. The following steps will help you activate or redeem the working promo codes:
For starters, you need to download the Pokémon GO app from your respective play store, let it be the Google Play store or iStore. 

Once the downloading and installation process is complete, launch the application on your device. 

Now, navigate to the "Map View" option in the game. 

Afterward, go to the Menu and click on the "Shop" button. 

With that, proceed with scrolling down to the given space for entering the Pokémon GO promo code. 

Once you have entered the code, click on the redeem button and enjoy the products you have just gotten. 
The steps are relatively simple and will help you fully redeem those codes so you can have a thoroughly enjoyable experience while playing Pokémon GO. 
Pokémon GO Promo Codes that are now expired
While playing the game, you might have come across a few Pokémon GO Promo Codes that captured your interest. Maybe because the items they provide have helped you complete a task or something. But you will soon discover that the code is not giving you what you need. That is because, as mentioned above, the Pokémon GO Promo codes are available for only a short time, and you need to hurry up to avail them fully. To help you out, here is a list of all the Pokémon GO Promo Codes that have now expired: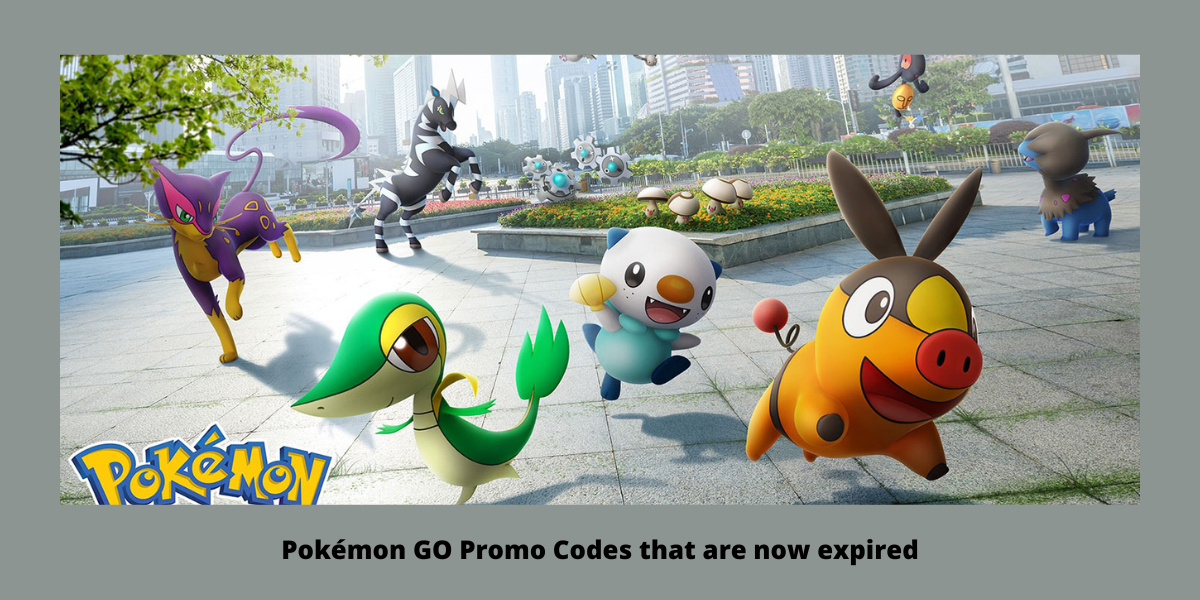 L9Y6T82UW4EVSE9

KG6EWDZRBK49KAY8 

7AZGHWU6DWV84 – Rewards:1x Incense, 30x Pokéballs

53HHNL3RTLXMPYFP – Rewards: 10 Pokéballs, 10 Pinap-berries, 1 Incense 

SWHPH9Z4EMZN7 – Rewards: 30 Pokéballs, 1 Incense, 1 Lucky Egg

E9K4SY77F5623 – Rewards: 10 Pokéballs

VNDJPDJM42KJ8TWQ – Rewards: Ed Sheeran rewards

VVM87WGMMUZHTB8X – Rewards: Ed Sheeran rewards

RWQNL567S5SP7VTL – Rewards: Ed Sheeran's Sweatshirt Avatar item

KUAXZBJUTP3B7 – Rewards: Galaxy A Series Special Edition Avatar

D8STK9J6GPSM9 – Rewards: 1 Incense, 3 Great Balls

N2V743HSEPFUW – Rewards: 1 Poffin, 3 Great Balls

UWJ4PFY623R5X – 5 Ultra Balls, 1 Lucky Egg, 5 Stickers

EMRK2EZWLVSSZDC5 – 8 Pokéballs, 4 Golden Razz Berries, 4 Silver Pinap Berries

LEQ8C2BQXJATZ – 3 Pinap Berries

5PTHMZ3AZM5QC – 10 Max Potions, 10 Ultra Balls, 1 Sinnoh Stone

K8G9DFV4X7L3W – 50 Pokéballs

9FC4SN7K5DAJ6 – 1 Star Piece, 5 Stickers, 5 Razz Berries

944231010271764 – 10 Poke Balls, 5 Razz Berries

844316465423591 – 10 Poke Balls

UBCJL9X6RC47A

FTT7V6NDZ6B8X 
Therefore, if you are trying to utilize one of these codes and coming up empty-handed, you need not worry. Your game is not under some glitch; these codes are no longer relevant. 
Good Codes that never expire- List of Active codes
As mentioned above, there is no such thing as "Pokémon GO Promo Codes that never expire." Every code you come across in the game is only a short-term friend you might have to bid goodbye to sooner or later. However, there are a few codes that have managed to stick around a little longer than anticipated, and you can avail the advantages of having them around, such as:
E9K4SY77F5623: Get 10 Pokéballs

KUAXZBJUTP3B7: Samsung Cap / Samsung Shirt

LRQEV2VZ59UDA: Verizon Jacket / Verizon Mask

53HHNL3RTLXMPYFP: 10 Pokéballs/ 10 Pinap-berries/ and an Incense

SWHPH9Z4EMZN7: 30 Pokéballs/ Incense/ a Lucky Egg
These codes have been a part of the game for a considerable time now, so players believe these codes will never expire! But there is little that we can say for sure. Therefore, the best action is to exploit them as long as they are around!