The long-awaited video game, Kirby Dream Buffet is almost here and fans are more excited than ever. 2022 is proving to be a great year for the Kirby franchise. The previous Kirby game, Kirby and the Forgotten Land launched earlier this year and proved to be quite popular amongst its players. The game received an impressive 8 out of 10 IGN rating. Further, it also got a whopping 4.8 out of 5 rating on GameStop. 
Developed by HAL Laboratory, Nintendo published the game exclusively for Nintendo Switch. Moreover, it was the first game available in full 3-D.  Now with the latest edition to the Kirby franchise right around the corner, expectations are at an all-time high. In this article, we gathered all the necessary information regarding the upcoming Kirby Dream Buffet game. From release date to various game modes, we have got it all!
Kirby Dream Buffet Release Date
The announcement regarding the latest spin-off of the Kirby series came last month. However, Nintendo chose to remain quiet about its exact date of release. Nevertheless, after a month of building up excitement amongst their fans, Nintendo finally announced the big news. Kirby Dream Buffet is set to release on August 17th 2022, putting it less than a week away. Nintendo made the exciting announcement on their official Twitter account. Both Nintendo UK and Nintendo USA made the announcement on their respective Twitter handles.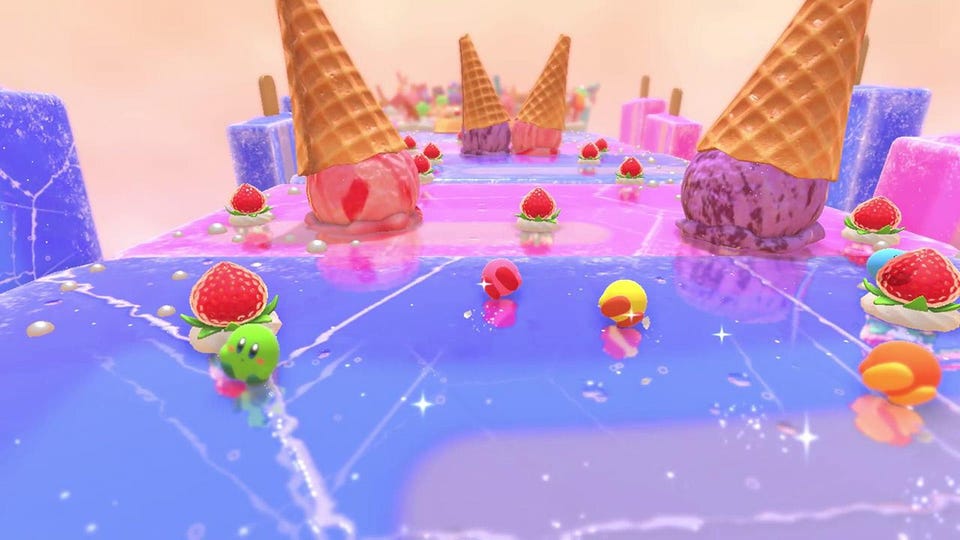 Nintendo UK's Twitter post read, "Pack some snacks and hit the tracks! #KirbysDreamBuffet is coming to #NintendoSwitch 17/08! Watch the latest trailer to find out what delicious delights that await you."

On the other hand, Nintendo America Tweeted, "Roll into this smorgasbord of fun with 3 other friends in local wireless or online! Or play with a buddy on the same system! Kirby's Dream Buffet releases on 8/17, exclusively on #NintendoSwitch."
Plot
The Nintendo e-shop listing described the game as a "smorgasbord of food-themed stages". It also revealed that the game would have a 4 player mode as well and a much rounder Kirby. Kirby loves strawberries and in this game, players must make their Kirby eat as many strawberries as possible. More strawberries mean a bigger, rounder Kirby, which is the ultimate aim of the game. Players must face various hurdles in different modes while trying to obtain these strawberries. 
Furthermore, there are different Copy Food power-ups that players can use to get an edge over the other players. When the round ends, whichever player has the biggest Kirby, wins. 
Moreover, the game is available to play online or through a local wireless connection. Players can even use the same gaming system to play in up to a 2 player mode.
Kirby Dream Buffet Different Game Modes
As the game begins, each player has a small, miniature Kirby. Players must roll their round fat and adorable avatar through various food-themed modes. Players get to choose one of the four different game modes to play in. Race, Minigame, Battle Royale, and Gourmet Grand Prix.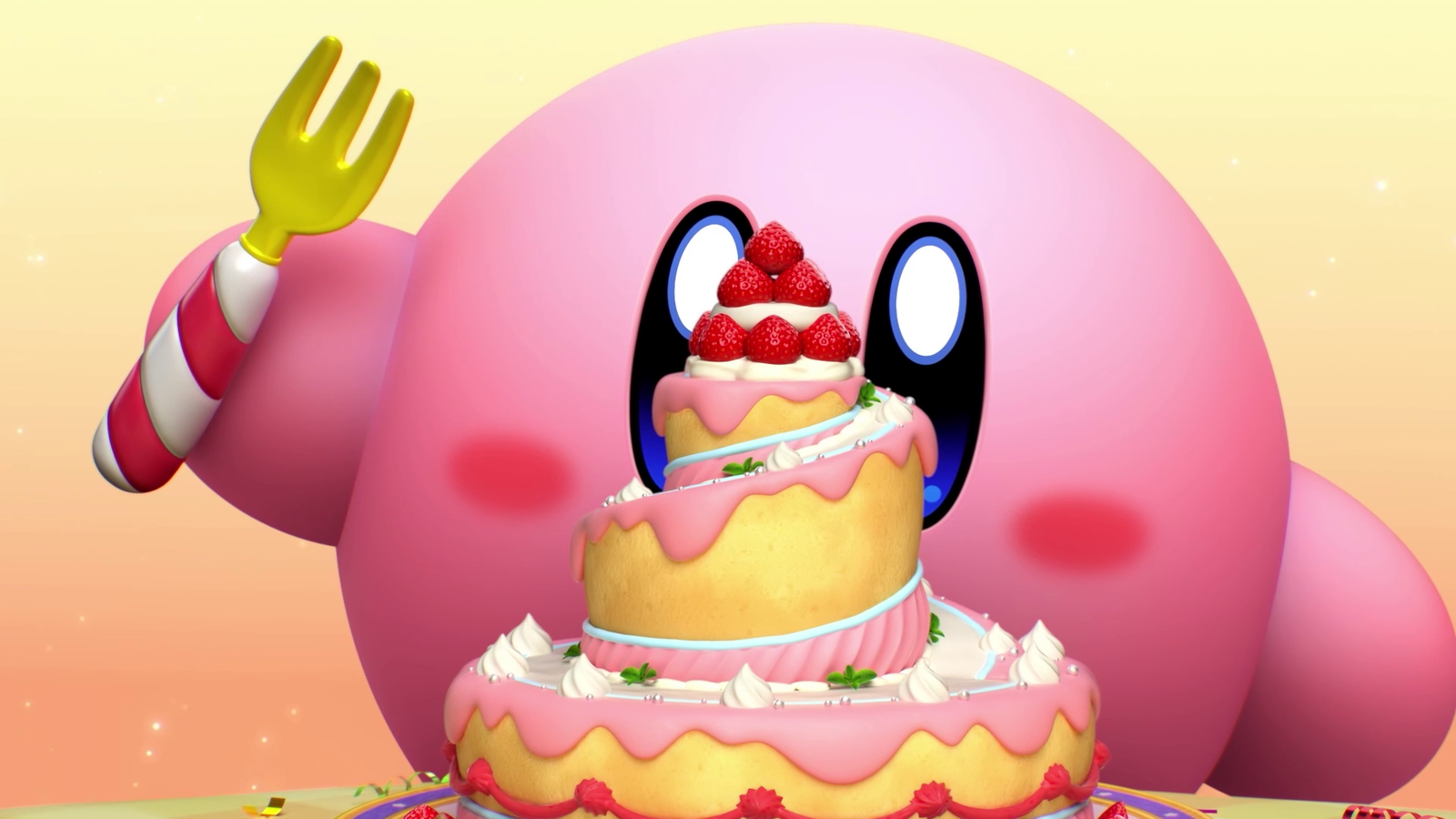 In the race mode, gamers can play in batches of up to four players. They must strive to reach the finish line first while collecting strawberries. Numerous powerups are also present on the race track to allow players to increase their speeds and aid them in other forms. These include Jelly, Tornado, etc. 
The second game mode is Minigame. This allows the players to make their Kirby grab as many strawberries as possible. However, this time around, they must do so within a time limit. 
Battle Royale is game mode number 3. In this mode, players must battle 4 other opponents and try to steal their strawberries. Once again, whichever player has the most strawberries at the end, wins. 
Finally, comes mode number four, i.e. the Gourmet Grand Prix. This is the biggest mode in the game. It combines all the above three modes into one grand amalgamation. Players must win races, divided into minigames, followed by a Battle Royale final. 
Rewards Shop
Collecting strawberries does not just make you win games, it also allows you to personalize your Kirby. In Kirby Dream Buffet, players can make their way to the rewards shop and exchange strawberries in return for customizations. Players are able to change the appearance of their Kirby's and even upgrade their character treat. The character treat is the pedestal at the beginning of the start line. Furthermore, the more strawberries players collect, the more different levels they can compete their Kirbys in.
Kirby Dream Buffet Trailer 
Nintendo dropped the trailer for Kirby Dream Buffet on 12th August 2022. The trailer gives prospective players a great insight into what the new game has to offer. The colorful graphics and the adorable Kirby's are sure to draw your attention. Add the salivating food items on top of this and you would find yourself wishing you were in the game, instead of Kirby. 
Check official trailer:
Purchasing Kirby Dream Buffet
The game releases on 17th August and will be available on the Nintendo store for $14.99. Players can either wait for the official launch or pre-order the game. Pre-ordering ensures that you get your game before it sells out.