Activision has finally given a thumbs up on the Modern Warfare 2 open beta, and the game is set to provide the players with a taste of gunplay and maps from this year's Call of Duty. It seems as if the beta version is imminent and even provides insight into how to get a code through pre-ordering. Moreover, there are hints at the estimated release date and other things you might expect from the game. And there are more things you need to know about Modern Warfare 2.
Modern Warfare 2 open beta estimated release date
So far, Activision has not given any official statement on the Modern Warfare 2 open beta release date. However, the fact that every year since the dawn of time, a new call of Duty game takes the world by storm. We can make an estimated guess on when the beta version will arrive. 
The Call of Duty Warfare 2 is set to launch on October 28th, 2022, which is slightly earlier than the previous releases of the game. Given thought, the tradition follows the open betas for Call of Duty titles arriving around six weeks before the launch. Therefore, as per relevant calculations, we can expect the Modern Warfare 2 open beta to arrive sometime in September. Moreover, as depicted by its name, the game's open beta will be available to all. Hence there will be a period of early access for specific players. 
Apart from the calculations, we also have the word of infamous Call of Duty maker Ralph Valve to rely on. Since their previous leaks regarding the timings of new Call of Duty seasons and betas have been on point, their recent potential leak will likely hit the target too. According to a report, the Modern Warfare 2 open beta could arrive on September 15th. But don't get your hopes up yet since the date has not been confirmed by Activision yet.
How to get access to the Modern Warfare 2 beta?
There are three main ways to get the Modern Warfare 2 open beta early:
Pre-order the game on any of the available platforms. 
This method is relatively easy to gain access to the Modern Warfare 2 beta. Once the beta goes live, you will receive an email containing a set of instructions defining "how to play." Moreover, players pre-ordering through the PlayStation Store, Microsoft Store, or Battle.net are automatically validated to participate in Early Access for the Modern Warfare 2 Open Beta.
Tune into the Call of Duty League Championship Weekend stream
The Call of Duty League Championship will stream on Sunday, August 7th. By watching and clicking on the "linking your Activision account to YouTube," you will get a chance to win a code for Modern Warfare 2 Open beta. 
Try to get a free early access code.
Since Call of Duty is a popular game, many YouTubers, influencers and streamers hand out early access codes for the multiplayer beta. If you are eager to get your hands on those, it is best to subscribe to a few popular channels and try to win one of the codes. 
What can you expect from the Modern Warfare 2 beta?
So far, there is no staunch detail available on the Modern Warfare 2 beta. However, Activision has been dropping hints to maintain the ongoing hype, describing the game as
"a robust multiplayer experience going beyond the Core 6v6 experience with a variety of meticulously designed maps of various sizes, and an equally impressive set of Modes, Progression experiences, and other aspects."
With that said, there are only assumptions and guesses surrounding the game such that many presume that the beta will have several 6v6 maps, including some big maps taken from Warzone 2 map. The big maps will allow playing big team modes, helping players familiarize themselves with the map ahead of the battle royale sequel's launch.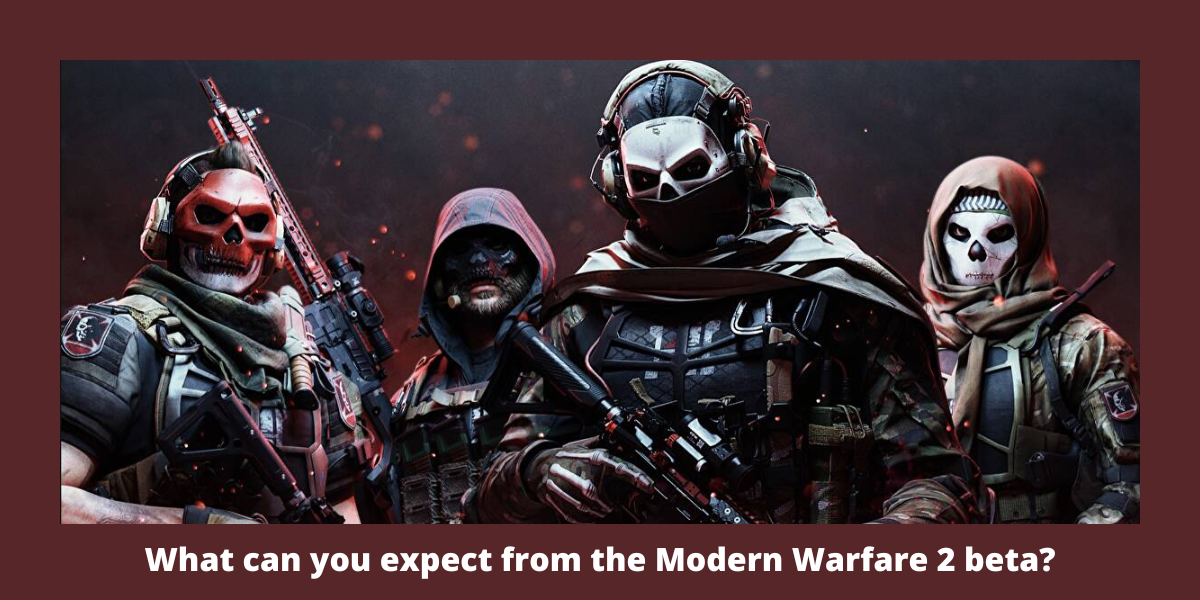 Apart from that, we can expect the beta to at least have a chunk of multiplayer, as affirmed by a leak from an event hosted by the NFL teams, the LA Rams. The leak has given us insight into the multiplayer lobby, along with a small snippet of the gameplay. 
Final Words 
For now, this information is all there is to know about MW 2 open beta. As players start getting early access to the game, we might come across new information, but until then, we might have to satiate ourselves with the little we have.