Warzone 2 Season 1 Reloaded will launch this month and bring a new multiplayer map, two new operators, a new raid, a new LTM, and many other updates to the game! 
Warzone 2 has been one of the most popular PC battle royale games of 2022! And now, with Season 1 Reloaded releasing soon, the game will become even more spectacular. It is a mid-season update for multiplayer and battle royale game modes. It will add new content, fix bugs, and balance tweaks. 
Overall, Warzone 2 Season 1 Reloaded is all set to make Warzone 2 an even greater best-seller. So when is this exciting new update releasing? What new features will it add to the game? Keep on reading to find out.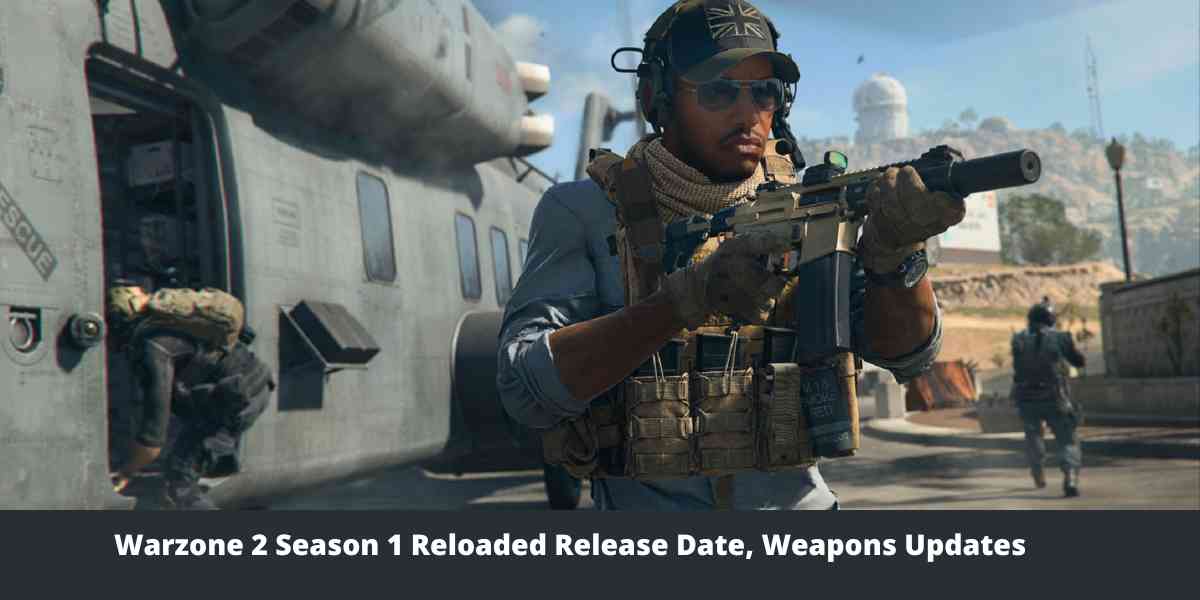 Warzone 2 Season 1 Reloaded Release date.
Season 1 Reloaded will launch for Call of Duty®: Warzone™ 2.0 and Call of Duty®: Modern Warfare® II on December 14. It will go live at 10 a.m. PT. 
The game producers have added exciting new features to celebrate the latest update. During the launch weekend, from December 15 to December 19, players can enjoy Double XP and Double Weapon XP across all platforms! 
Warzone 2 Season 1 Reloaded Updates 
With challenging first-ever Raids, chaotic Shipments, and a brand new primary weapon, Warzone 2 Season 1 Reloaded will add new features in almost all aspects of the game. 
We've discussed all the new upcoming updates down below. 
Warzone 2 Season 1 Reloaded New Weapon 
The update will drop the Chimera Assault Rifle. It will be locked initially, and players must complete a weapon challenge to unlock it. 
The weapon is a shorter-range assault rifle and perfect for those who love shooting their enemies up-close and personal. It is expected to be a more silent and powerful version of the M14B. However, its fire rate is slightly slower than other rifles. 
Warzone 2 Season 1 Reloaded Operators 
The update will launch two new operators. 
The first one is Gaz. You can unlock him by finishing the Atomgrad Raid. 
The second one is the festive Klaus. He is a part of the Denmark Elite Special Forces, and players can unlock him via the game store. 
Al Mazrah Building 21 
Season 1 Reloaded will introduce a new indoor area. Its code name is Building 21. 
The new area is located in Al Mazrah. Although details regarding it are sparse now, we know it's one of the deadliest areas in the game! Most players won't be able to make it inside the building, never mind steal the high-level loot it contains. 
Warzone Cup LTM 
The game developers want to celebrate the world cup in COD. So, it is introducing a football-themed game mode. 
Two players consisting of three players will participate in the Warzone Cup. They are pitted against each other in the Al Easima Field stadium. 
Players will have ATVs with pulse abilities. They must use their skills and available equipment to steer the football toward their enemy's goal. The first team who scores five goals wins! Or, the team with more destinations wins at the end of the five-minute timer. 
Mini Royale 
It is a condensed version of the battle royale mode with fewer players dropping in a smaller location of Al Mazrah. 
Double XP 
Players get to enjoy double XP from December 15- December 19. Use this opportunity wisely to unlock every attachment and build the best MW2 Guns! 
Raid 
The Raid is the most anticipated new feature of Warzone 2 Season 1 Reloaded. It is called the Atomgrad.
The Atomgrad is available to all players who play Modern Warfare 2. 
Three players can participate in the Raid. They must work together and communicate with each other to solve mysteries in an underground bunker! 
You can get access to raid your team, and you will need a Raid Assignment. You can get it in the following ways, 
Finish a specific daily challenge in Spec Ops or multiplayer. 

Rank in the top 20 in any Warzone 2 match. 

Extract with at least $30,000 in cash in DMZ mode. 
After getting a Raid Assignment, you can unlock the Atomgrad for a week. After the week, you will need another Raid assignment to continue accessing the Raid. 
Shipment
The iconic Call of Duty map, Shipment, is returning with a new update! The frenetic, haphazard grind-fest is ideal for unlocking attachments and finishing camo challenges. Pair it with the Shipment Playlist and the double XP weekend, and enjoy a gaming experience unlike any other! 
Shipment will be a Christmas Wonderland FroDecember 2121 January 4 4. It wi feature candy canes and wreaths spread all around the kill box. And, you may see some mistletoe as you get up close and personal with the enemies.
Combat Records 
The combat records will release in Warfare 2 Season 1 Reloaded. It will display the detailed stats of your performance in battles in both Warzone 2 and Modern Warfare 2.
The stats can range from basic (showing the number of games you have played) to highly advanced (showing your exact accuracy with individual weapons.). 
Unfortunately, the combat records will not contain any prior information. It will only record data from December 14 onwards, after the release of Season 1 Reloaded.