Sonic Frontiers – A Brand New Entry:
For Sonic Fans year 2022 looks like a great year. First, the release of Sonic Hedgehog 2 movie in cinemas. And now, a new open-world 3D game will be launched during the holiday season. The Sonic Team has named this new title "Sonic Frontiers."
This game puts Sonic in an open world, where he can push his speed to the max. The art style chosen by the developers for this game leans towards the realistic side rather than animated. Sonic fans were itching for a new game, and this might just satisfy that itch.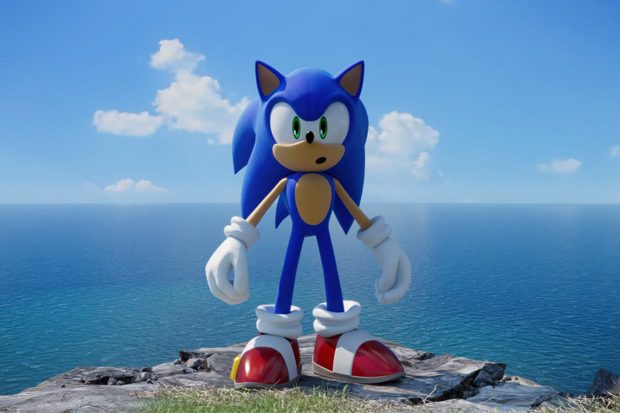 Even though it's difficult to imagine sonic in an open-world game, we must credit the developers for this bold move. Many people have already attached many high expectations to this game. But only time will tell if these get fulfilled.
Sonic Frontiers – Trailer:
Till now, only one cinematic trailer has been released so far. In the announcement trailer, Sonic can be seen racing around Starfall Islands and facing giant enemies.
You can check out the trailer from the link:
First Look – Gameplay of Sonic Frontiers:
The first look at the newly addition 3D game in the Sonic franchise was revealed by IGN.
The seven-minute world premiere gameplay by IGN shows the enemies that Sonic will be against. The gameplay is mentioned down below:
Features of Sonic Frontiers:
Characters:
Till now, the only character who is shown completely is Sonic. Apart from that, we can hear Amy's voice as well. To date, we have seen only one trailer and gameplay. We have yet to see any Sonic friends or enemies in the new 3D game. As huge fans, we hope to hear more about this shortly.
Location and Settings:
The game is set on Starfall Islands. The trailer and gameplay show us the location and overview of these islands. The setting shares a similar vibe to Breath of the Wild, owing to the sense of a serene colour palette and a more naturalistic art style.
When is Sonic Frontiers about to release?
SEGA is about to launch a new 3D open-world game, "Sonic Frontiers." This new addition to the sonic franchise takes place in an expansive world. SEGA has marked the holidays of 2022 to launch this game. Till now, the release of the game is set to be in Q4 of 2022.
Sonic Frontiers – Rumored Release Dates:
A lot of talks and rumours surrounds the newly upcoming game of the Sonic franchise. Moreover, SEGA is yet to announce a release date for this game.
In today's era, you can't hold a secret. When it comes to hiding a release date, it's clear that it can't be kept a secret for a long time. Everyone has access to almost everything, thanks to the wide availability of the internet.
The same thing happened with Sonic Frontiers.
A listing spoils the surprise:
For a long time, SEGA held on their nerves when announcing a release date.
But all the surprise is being spoiled. Thanks to a certain listing on a Taiwan Kuji shop. And credit goes to those seekers who found out about this.
The listing reveals that the game's release date is November 15, 2022. Not only that, but the listing also shows that the game will be some sort of a DLC.
Gamescom's Opening Night Live Show – A release date is expected:
Confirmed by Geoff Keighley that the game will get a new look and gaming news during Gamescom's Opening Night Live Show. This show will take place on Tuesday, August 23. A release date is also expected, which can be revealed at the show.
Release date by SEGA:
We have mentioned before that a release date is yet to be confirmed by SEGA. The other closely tied stakeholders have also not confirmed anything. Any rumoured released date should not be taken as an official date until everything gets revealed by the officials and distributors. We hope that it will happen soon.
Conclusion
Sonic Frontiers is a brand new addition to the series of Sonic games. Much to the fans' excitement, this beloved hedgehog is slated to land in November of 2022. Many fans have awaited a AAA Sonic title for a long time, and it seems that their wishes are about to be fulfilled.
In this article, we discussed the leaked release date of Sonic Frontiers. Furthermore, We also talked about what to expect from the game and the general art style Team Sonic has opted for. This is all for today. Thank you for reading.