Get on board, fellas! The eagerly awaited video game Everdream Valley, created by Mooneater, is scheduled to debut on the PlayStation 5, PlayStation 4, and PC via Steam. Players are taken on a fascinating farming journey through a fantastic world of wonder and excitement combined with magic. Considering this, we can safely say Everdream Valley is ready to become a treasured addition to the gaming industry. So, let's delve deeper to learn about the game's release and all the other essentials you need to know. 
When Will Everdream Valley Release on PC and PS consoles? 
According to the developers, Mooneater, Everdream Valley will launch on 30th May 2023 on PlayStation 4 and PlayStation 5 with PC through Steam. Adding more to the excitement, the developers have also signaled the launch of this game via Switch in June this year. 
Everdream Valley: All You Need To Know About Game
Everdream Valley encourages players to embark on an incredible adventure while taking on the character of a youthful farmer; where they renovate their grandparent's home while growing crops and taking care of the animals. Nighttime calls for further adventure as the players embody the dreamer's character and tackle several challenges. Players will explore the colorful landscapes of the valley, each with its unique charm and secrets just waiting to be uncovered.  
Everdream Valley: Important Aspects 
Everdream Valley isn't just the farming game calling you to grow crops or take care of the animals. It has much more to explore as you embark on this adventurous journey. Let's analyze different aspects or features of the game to analyze what Everdream Valley has to offer.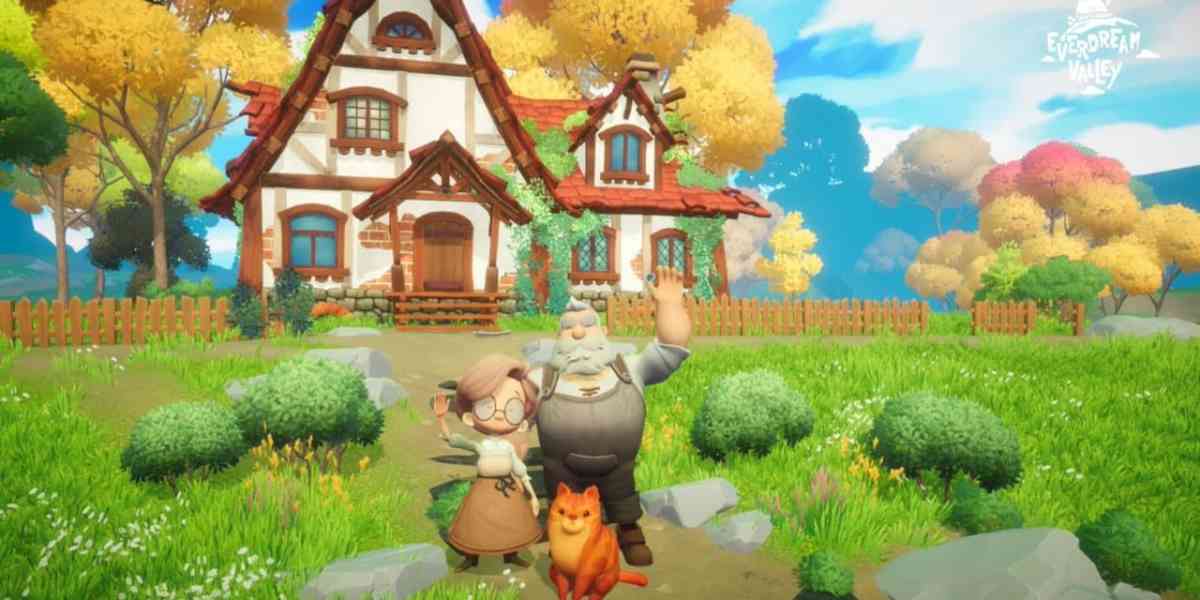 Feed and Raise Your Animals to Build a Farm Paradise 
There are several animals, including cows, pigs, chickens, and goats, to name some, who crave your care and attention. Feed and entertain them as you raise them to reap the benefits that each animal contains. You can also choose the breed of your sidekick dog to stay with you throughout the day and train it with some tricks to get yourself an ultimate helper and a friend. You also get a cat, but you must win it over to bring it to your side. It's all about raising and saving your animals from becoming prey and making the farm a paradise residency. 
Live In Your Dreams At Night Through Magic
As the night strikes, the magical powers cover the valley, enabling the players to take in the animal character they like and play mini-games in their dream. Besides, you can do other activities like camping, fishing, carrying down a treasure hunt, building a treehouse, etc. The plus point is you get a reward for doing all these activities to upgrade your farm and unlock other adventures as you advance.
Everdream Valley: Gameplay
The gaming mechanics of Everdream Valley are created to achieve the ideal balance between simplicity and complexity. Numerous activities, including in-game challenges, puzzles, and exciting combat disputes, will be available to players. Players of all skill levels may easily travel the valley and take in all its splendors thanks to the game's simple controls. For further exploration, you can glimpse through its trailer or watch a gameplay video on the Youtube Channel of Untold Tales. 
Everdream Valley: Platforms 
Developers Mooneaters and publishers Untold Tales have confirmed to release their anticipated game Everdream Valley on the PlayStation 5, PlayStation 4, and PC via Steam. They have also hinted towards the launch of this game via Nintendo Switch, enabling gamers from several gaming platforms to experience this remarkable journey. 
The excitement and expectations keep growing as the launch day gets near. Everdream Valley is a game that will transport players to a world where imaginations take flight, the unusual becomes real, and you build and inhabit your dreamland. 
So, prepare to enter the valley and discover its secrets because a once-in-a-lifetime farming adventure awaits you!