Cassiopeia in Pokémon Violet, as predicted in the trailer, is presented to players as a character somewhat mysterious. You and the player team complete Mission Starfall together to take down the five bosses. While she somehow gains access to the player's phone and forces you to support her plan to destroy Team Star from the start. Yet, the question arises who Cassiopeia is in Pokémon Violet?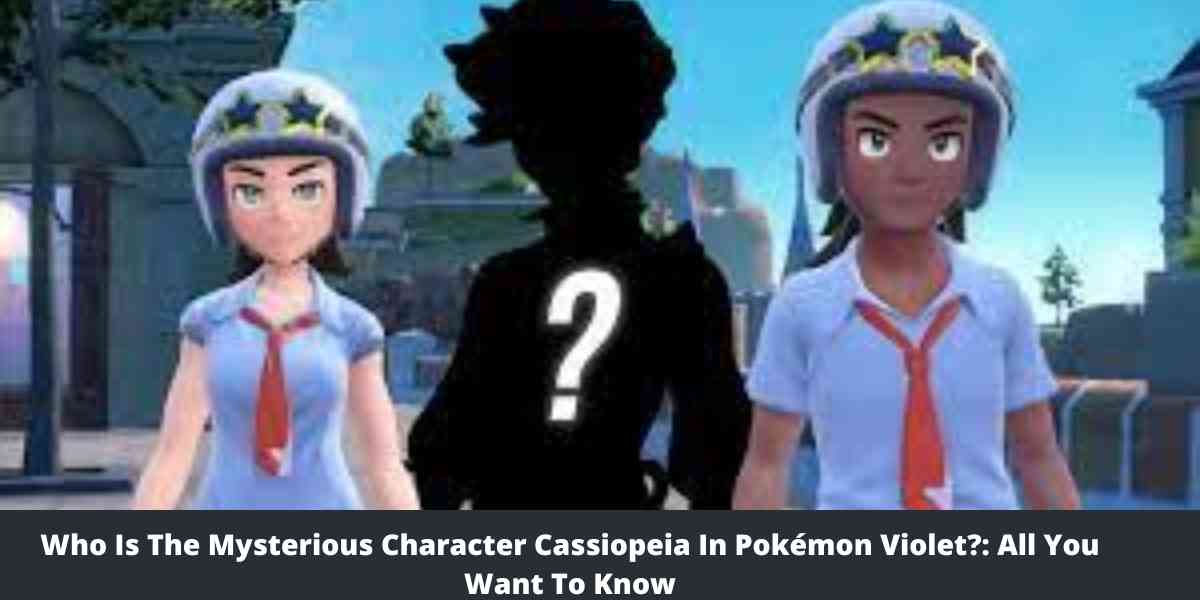 Who Is The Mysterious Character Cassiopeia in Pokémon Violet?
There are two possibilities for the identity of Cassiopeia in Pokémon Violet:
First, she is the squad's top leader and the team you initially attempt to defeat.

Second, it transpires that she is Penny, the shy trainer with the large, cuddly Eevee backpack who has been providing you with supplies since Team Star discovered her being bullied at the start of the game.
How to find Cassiopeia in Pokémon Violet?
After beating the final Team Star member in the Starfall Street missions, the head of the Team Star must be revealed by tapping, and combat must follow. When a location is marked on the map, the player can fly there immediately to find out who is behind Operation Starfall. The participant must speak with the Academy; they can further communicate with Clive. The player can anticipate which way to tap to find who Clive is.
How to beat Penny in Pokémon Scarlet and Violet?
The commander of Team Star, Cassiopeia, will be your final opponent after you return to Naranja Academy's Schoolyard area.
Cassiopeia will soon be revealed to be Penny all along, and you can choose to attack her immediately after the revelation or return to the schoolyard later to do so.
Suppose you wish to defeat Cassiopeia in Pokémon Violet, who uses multiple Level 62 and 63 Eevee evolutions. You must progress through the game quite far and level up a lot.
Penny will utilize the following six Pokémon in the fight:* Kilowattrel- Level 62
* Flareon – Level 62
* Vaporeon – Level 62
* Leafeon – Level 62
* Jolteon – Level 62
* Sylveon – Level 63
For fighting Penny, we advise bringing Full Restores and Revives, especially if your Pokémon are weaker than or on par with Penny's.
Best team to defeat Cassiopeia in Pokémon Violet:
The virtual team that can match Cassiopeia's Pokémon's strengths and defeats them is listed below:
* Kilowattrel Lvl 62 (Electric/Fire-type)
* Closure Lvl 62 (Poison/Ground-type)
* Tinkaton Lvl 62 (Fairy/Steel-type)
* Azumarill Lvl 62 (Water/Fairy-type)
* Heracross Lvl 62 (Bug/Fighting-type)
* Tyranitar Lvl 62 (Rock/Dark-type)
* Garganacl Level 62 (Rock)
Before you face Penny, level up your Pokémon with candies, research the best moves to use against Cassiopeia, and then buy those moves from the Poke Center. from the Poke Center.
Clodsire, for example, can easily poison Jolteon and Flareon because they are weak against ground and poison types. The poison-type Pokémon Leafeon and Sylveon, vulnerable to it, can also be defeated using it.
Tinkaton and Heracross can defeat Kilowattrel and Vaporeon, defenseless to fairy and grass types, respectively, because they are both weak.
Cassiopeia in Pokémon Violet Rewards and Loot
Players of Pokémon Violet are awarded 15,120 in cash for defeating Penny's adversaries. Find Director Clavell's office, leave the Academy, and talk to Penny one more time to finish the Starfall Street story.
As in payment, you will get the TM-169 Draco Meteor and access to more TM recipes.
Cassiopeia's battle in Pokémon Violet is one of the most fun in the game. Finally, a canon figure replaces the most well-known Eevee trainer, and the public loves Eeveelutions.
Although the knowledge that she is Team Star's boss may be unsettling to some, if players are well-prepared, this battle won't be difficult.